Service Account Governance (SAG)
What is Service Account Governance?
Service Account Governance, or SAG, is the combination of software tools, policies, and workflow processes that ensure service accounts remain secure and accounted for. This includes assigning ownership, controlling access to service account passwords, ensuring strong password strength across all accounts, and understanding which applications are dependent on each service account (so changing a service account privileged password does not result in a broken connection).
SAG is a critical yet often overlooked part of the Privileged Account Management (PAM) process.
Service Account Governance Resources:
Blogs
You break it, you buy it: Fear of unknown dependencies hinders service account governance
How to expedite discovery of service accounts for onboarding into Service Account Governance
Service accounts vs user accounts
Free eBooks
Service Account Security for Dummies
Free Tools
Service Account Discovery Tool
Webinars
Service Account 101: How to start managing your service accounts
Products
Secret Server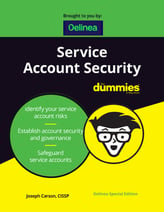 FREE: Service Account Security For Dummies
See how to protect your service accounts before it's too late