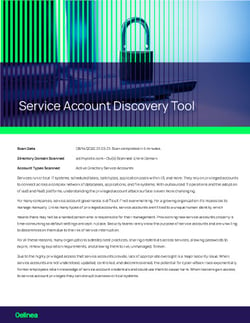 Service Account Discovery Tool for Windows
Have you inventoried your service accounts?
How well do you know your service accounts?
The Delinea Service Account Discovery Tool for Windows measures the state of privileged access entitlements in your Active Directory (AD) service accounts and exposes areas of the highest risk. With this free tool, you may find:
Aged service accounts and passwords that are no longer needed
Expired service account passwords that require changing
Service accounts and passwords without expiration requirements
Services that share privileged credentials, violating least privilege policies
After running the Discovery Tool, you'll get a detailed custom report so you can prioritize the next steps. With this information, you can start to build a service account governance plan that lowers your risk and keeps you compliant.
Register to immediately download the Service Account Discovery tool
Install it, run your scan, and see your results right away.
Your information is completely private. Delinea has no access to your system credentials or report results.
Reduce service account risk


Many organizations have hundreds of service accounts that run databases, applications, and other automated IT operations. Service accounts can easily fall off your radar because they aren't tied to a unique human identity. Lack of ownership makes proper service account governance difficult if not impossible.
As a result, service accounts and their associated credentials may linger long after they are needed. IT teams aren't sure of the original purpose for the service account and therefore are afraid to turn them off or update credentials.
Lack of service account governance violates security compliance requirements and increases the potential for cyberattacks. Former employees retain privileged credentials and could use them to cause harm. If cyber criminals gain access to service account privileges, they can disrupt not only one service but an entire network of business-critical systems.
Privileged Access Management (PAM) that protects service accounts reduces your organization's risk and saves management time. The Service Account Discovery tool is critical to building a comprehensive PAM strategy.
By downloading this tool you agree to the End User License Agreement (EULA)