REMOTE CONNECTION SOFTWARE
Connection Manager
Manage and interact with multiple remote sessions for both Remote Desktop Protocol (RDP) and SSH in a unified environment.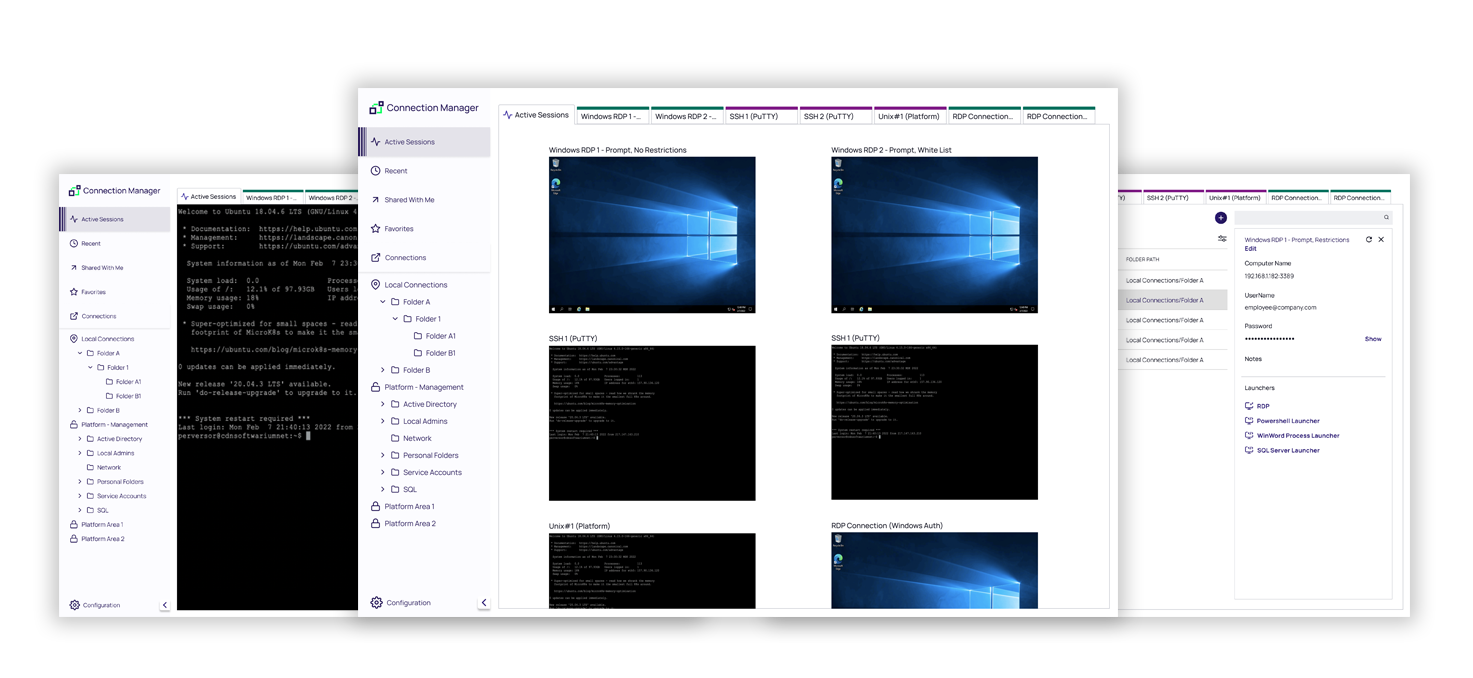 Scale Your PAM
Rapid deployment to start. Elastic scalability to grow. Gain visibility across hundreds of different connections in a single location.
Seamless integration with Secret Server
From a single interface, access required credentials from the Secret Server vault, on premises or in the cloud. Monitor and record simultaneous remote sessions.
Improve Productivity
Quickly switch between active sessions or easily launch a new session in a separate tab, easily expanding to full screen.
Efficiently manage multiple remote connections from a single screen
Connection Manager saves you time and lowers your privileged user risk
See how Connection Manager saves time and lowers risk
Remote Access
Launch and configure sessions across multiple environments
Session Management
Credentials are automatically injected into sessions as needed
Centralized Control
Access a single interface to manage and interact with sessions
Session Recording
Create an end to end record of privileged user access
Tracking & Auditing
Provide an
audit trail to demonstrate compliance
Try Connection Manager for free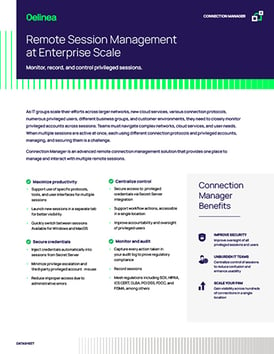 As IT groups scale their efforts across larger networks, new cloud services, various connection protocols, numerous privileged users, different business groups, and customer environments, they need to closely monitor privileged accounts across sessions. Teams must navigate complex networks, cloud services, and user needs.
Connection Manager is an advanced remote connection management solution that provides one place to manage and interact with multiple remote sessions.
Download the Connection Manager datasheet
Try Connection Manager
for free
Connection Manager supports extended PAM
The standard definition of PAM isn't sufficient for the growing risk of cyberattacks. We believe PAM must address the exploding number of identities and today's IT complexities.
Our products provide effective authorization controls for an identity-centric approach to security.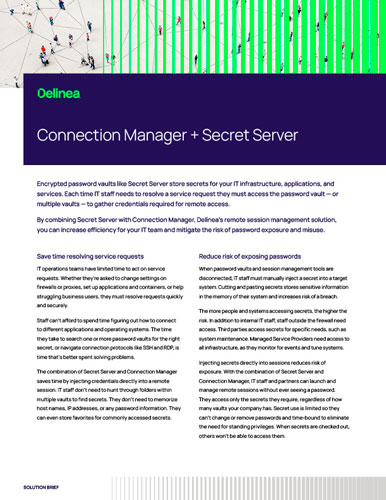 Increase efficiency for your IT team and mitigate the risk of password exposure
The combination of Connection Manager and Secret Server saves time by centralizing credentials directly into a remote session. IT staff don't need to hunt through folders within multiple vaults to find secrets.
Get the Solution Overview