Endpoint Detection and Response (EDR)
What is Endpoint Detection and Response?
Endpoint Detection and Response solutions enable companies to implement defense-in-depth (DiD) and increase the likelihood of rapidly identifying and responding to these threats.
Protecting endpoints is a top security priority for organizations today as the traditional "perimeter" in cybersecurity has dissolved with more users working remotely, and cloud applications fast becoming an operational standard. Even though network-based defenses have proven effective at blocking most cyberattacks, other attacks such as phishing and credential takeover can easily bypass these types of defenses.
In the wake of the COVID pandemic, robust endpoint protection has gained traction with IT security teams as they are required to manage security for off-site workers using personal devices that may or may not have the most recent security patches or other protections. Thus, EDR is viewed as essential to keeping cyberattacks and malicious insider abuse from turning a simple breach into an enterprise network security disaster.
How does Endpoint Detection and Response security work?
EDR software tools continuously collect and analyze data from endpoints across the organization. They provide the surveillance, alerting, and reporting capabilities that allow IT security teams to monitor users and identify suspicious behaviors, as well as conduct forensic analysis should the network experience a breach.

How Secure Are Your Endpoints?
An ethical hacker's guide to protecting Windows machines.

What are the main benefits of EDR security tools?
EDR security tools help to keep attackers that get past anti-virus systems or exploits that may be launched by an unaware endpoint user from gaining the ability to move across the network undetected.
EDR tools also provide the key information about endpoint usage that can be crucial in discovering the root cause of an incident, as well as determining if and how an exploit may have been leveraged to gain further access across the network.
What to look for in EDR security tools
There are several capabilities that EDR tools should deliver, including:
The ability to integrate with other cybersecurity and monitoring tools.


A convenient way to assess endpoint protection status through a dashboard that provides visibility into overall protection status and timely alerts, along with built-in reporting for compliance purposes.


Automation of the detection, threat intelligence collection, and forensics capabilities to enable timely response to endpoint threats.


Assistance in preventing exploits through adaptive protection capabilities using behavioral analysis to stay ahead of constantly evolving malware.
What is the difference between EDR and Anti-Virus?
As malware has continued to become more advanced and prevalent, traditional anti-virus solutions are not sufficient in keeping up with evolving threats. Conventional anti-virus tools perform the basic tasks of scanning, malware detection, and removal by using signature-based detection methods. In contrast, typical EDR tools are designed to provide multiple layers of cybersecurity, including attack and exploit blocking, patching, allowing/denying, and more.
More Endpoint Security Resources:
Blog Posts
Enterprise Endpoint Management is a Must When All Users are Privileged Users
Guides
Definitive Guide™ to Endpoint Privilege Management
Whitepapers
How Secure Are Your Endpoints?
Products
Privilege Manager: Endpoint Privilege Management and Application Control Software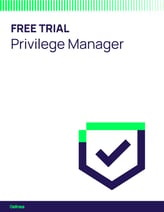 How many risky applications are running on your high-risk endpoints?
Find out now with our FREE trial of Privilege Manager, Endpoint Privilege Management and Application Control Software