SERVICE ACCOUNT GOVERNANCE
Account Lifecycle Manager
Seamless service account governance from discovery and provisioning through decommissioning.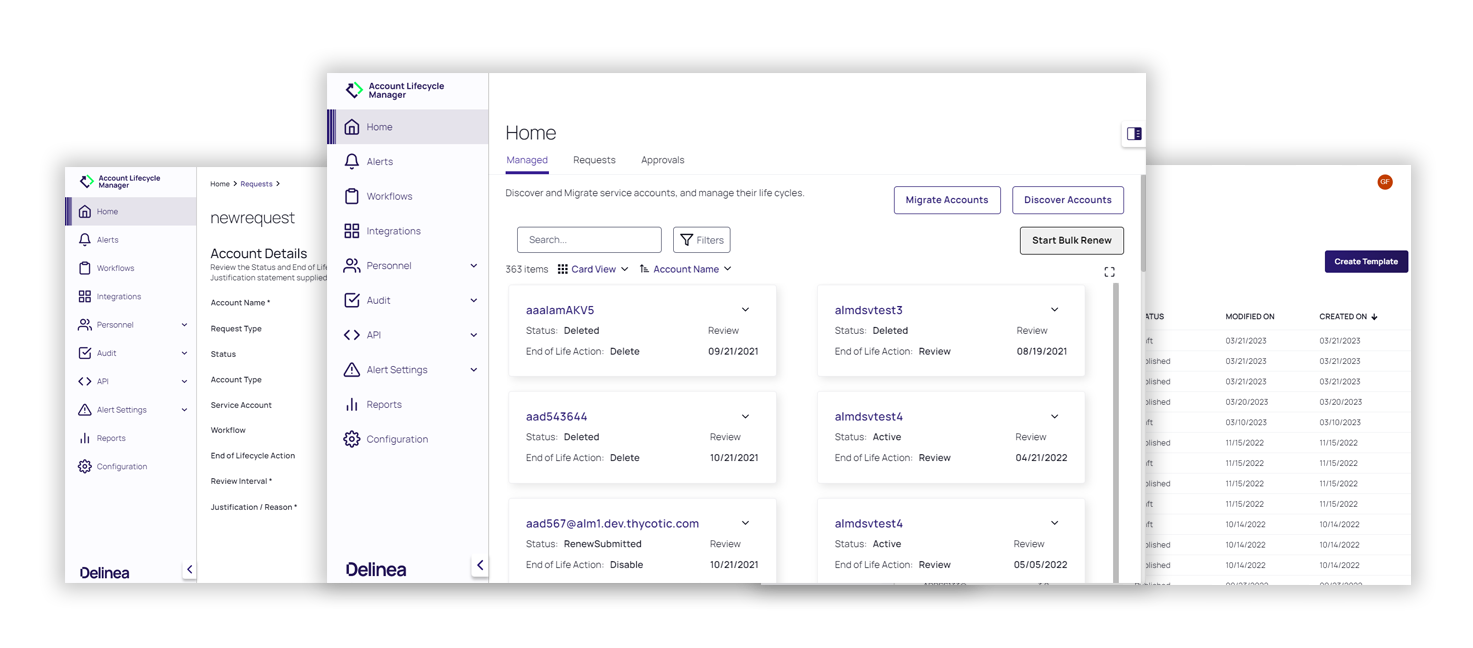 Mitigate the risk of cyberattacks, service interruptions, and human error
Protect Critical Resources
Non-human privileged accounts access services, applications, data, and network resources.
Reduce Service Account Sprawl
Most service accounts fly under the radar of IT, expanding your vulnerable attack surface.
Save Time and Effort
Automate service account governance to provide security teams with central oversight and control.
Increase accountability, consistency, and oversight of service account management
Control risky service account sprawl by automating and streamlining service account management.
Account Lifecycle Manager enables you to…
Discover hidden accounts
Find and identify service accounts.
Establish workflows
Delegate ownership with role-based permissions.
Provision accounts
Set up accounts seamlessly and automatically.
Enforce governance
Establish ownership and accountability for accounts.
Decommission accounts
Remove accounts without causing disruption.
Account Lifecycle Manager Features
Gain a complete picture of your privileged attack surface and address the risk associated with service account lifecycle management. Account Lifecycle Manager helps manage service account sprawl and empowers you to manage and control service accounts with workflows and automated provisioning, governance, compliance, and decommissioning capabilities.
SaaS and local deployment options
Cloud-native architecture for rapid deployment and elastic scalability
Support for Active Directory and Azure Active Directory

In-app and email notifications when accounts should be renewed or re-approved.
Approval processes for Separation of Duties (SOD)

Automated provisioning and deprovisioning
Cloning accounts
Tracking of accounts owned by departing employees
Decommissioning without service disruptions

Automation and Integration

Secret Server integration for account credential storage and vault sync
ServiceNow integration for streamlined ITSM workflow
API for automation of any function that the UI allows
Webhooks for notifications to be sent to other systems

Easy account auditing through account searches and reports
SOC II certification

Download the Account Lifecycle Manager datasheet for more information.
Try Account Lifecycle Manager FREE for 30 Days
Account Lifecycle Manager supports extended PAM
The standard definition of PAM isn't sufficient for the growing risk of cyberattacks. We believe PAM must address the exploding number of identities and today's IT complexities.
Our products provide effective authorization controls for an identity-centric approach to security.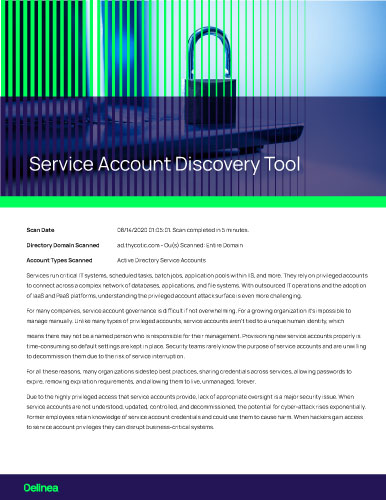 How well do you know your service accounts?
Free Service Account Discovery Tool for Windows measures the state of privileged access entitlements in your Active Directory service accounts and exposes areas of highest risk.

Get The Free Tool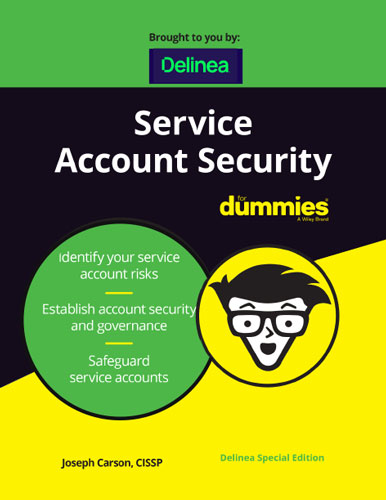 Service Account Security for Dummies
Service Account Security for Dummies helps you get control of service account sprawl and develop a strategy to protect service account access properly. You'll learn about service account governance and day-to-day best practices, and the key criteria for managing them with automated cybersecurity tools.
Download Now