Session recording now available within the Delinea Platform
As companies migrate to the cloud, it's common to lose visibility and control over who has access to sensitive assets. Organizations are highly dynamic and access conditions can change by the hour.
Organizations cannot trust that users on their network will act appropriately, even if a company has mature Privileged Access Management (PAM) programs in place. Even with security controls set up to define and restrict access, unless you can check that those controls are working as expected, you're still going to stress over your lack of visibility.
That's why Secret Server customers layer privileged session monitoring onto their PAM solution as a second line of defense.


Session Recordings page: List of captured and live remote access sessions
Should a cybercriminal or malicious insider find a way to take over a privileged account, session monitoring lets you know that PAM security controls are indeed working and abnormal user behavior will be detected. You can then respond immediately, even automatically, to contain the damage. For example, rotating credentials, forcing MFA or other approvals, or even revoking access altogether.
In our latest release, session monitoring is now available on the Delinea Platform for Secret Server Cloud customers, providing centralized control and a unified user experience. As a one-stop-shop for PAM reporting and administration, the Delinea Platform seamlessly extends PAM to provide just-in-time access with easy, adaptive controls that help IT and security reduce risk while enabling growth, efficiency, and scalability.
Recording privileged sessions results in an end-to-end record of a user's privileged access, from the moment they check out a secret from the Delinea Secret Server vault to the moment they log off. The Delinea Platform captures second-by-second screenshots during a user's recorded session. These images are compiled into a video that can be played back for auditing and security purposes.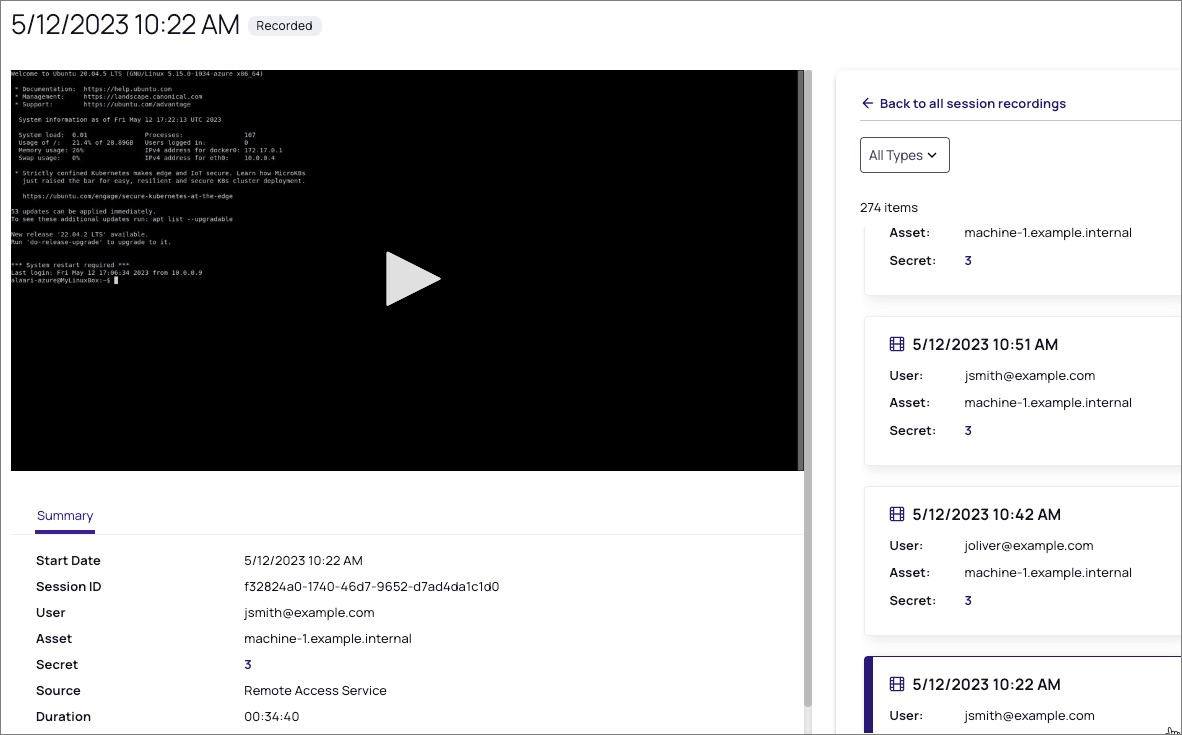 Individual session recording view
Session Recordings allow PAM administrators with the appropriate permissions to view all active launched sessions directly within the Delinea Platform. If Session Recording is enabled on the secret, an administrator can watch the user's session in real time or once the session recording has been completed.
It's now easier than ever to:
Enable session recordings for privileged sessions
Launch and record remote sessions for employees working from home or third parties
View sessions with real-time progress updates to ensure immediate action if necessary
Use easy playback controls for post-action forensics or security training
Maintain a full audit trail that can be provided to auditors, regulators, insurance reviewers, and incident response teams
To see the session recording capabilities in action within the new Delinea Platform, contact us to set up a personalized demo.