Secret Server releases updates to increase resiliency and security
We all know that cybersecurity is more important than ever. Let's go over the facts:
data breaches are getting worse every year
cybercriminals are becoming more sophisticated
breaches are costing companies millions of dollars
attack surfaces are expanding
organizations have more identities to manage than ever before
company leaders are in the hot seat, which in turn makes your job even harder
So, what can you do about all these threats? Let's talk security protocols, adding a backup plan to your arsenal, and how the latest Secret Server release helps you do that. For those who don't have Secret Server, this will also benefit you, so read on!
Plan for the worst, expect the best
Breaches are not a question of if, but when. As long as there is room for human error, there is always the chance of a breach that will cost millions and potentially unrecoverable damage to your reputation. Let's not forget that outages can also disrupt access and should be factored into your recovery plan. We dedicated resources in this release to high-availability and disaster recovery (HA/DR) features and functionality. These updates enable you to set up your backup plan. Humans are humans, and you cannot ensure everyone in your organization follows security best practices and protocols 100% of the time.
Eliminate disruption to business-critical privileged accounts when an incident occurs, no matter what your environment looks like
However, you can leverage the data you already have to avoid disruption to service and manage privileged access when human errors occur. That may sound counterintuitive, but replicating your current secrets data in another location will eliminate disruption to business-critical privileged accounts when an incident occurs, no matter what your environment looks like.
Here's some more detail about the release's functionality. All your Secrets data, local and domain users, groups, folders, files, secrets, and more sync to a separate Secret Server tenant in another location every few minutes. You can customize your secondary site to allow for a cloud-to-cloud, cloud-to-on-prem, on-prem-to-on-prem, or on-prem-to-cloud sync.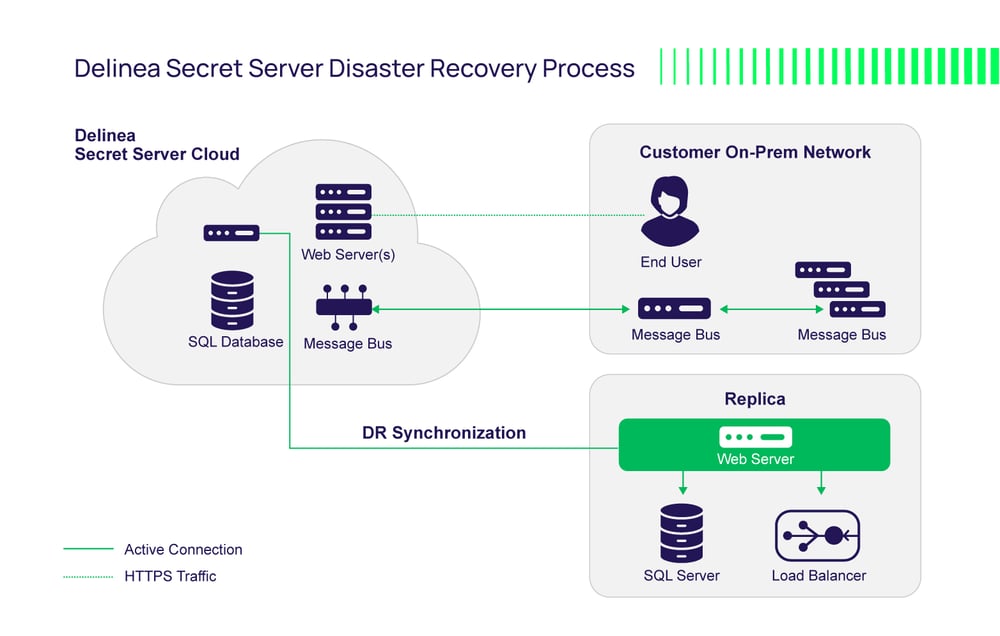 Delinea Secret Server cloud to on-premise DR sync process
This replication of data in another location enables a more secure backup plan with all your permissions in place and intact—no matter what happens.
They cannot steal what they cannot access
Now you know you should have a HA/DR as a backup. Backups are a last resort, so let's talk about how to avoid using them, thanks to added security for privileged accounts. Our goal and responsibility is to help keep your privileged account credentials secure and eliminate the ability for bad actors to lurk in your organization's digital shadow. To keep the evolution of your PAM solution on target, we have enhanced the SSH connectivity by adding a configurable Cipher Suite UI for better control and management of encryption algorithms.
This update allows users to fine-tune their parameters, along with set availability and application order for key exchange, MAC, and encryption algorithms from an easy-to-use list. This enhancement gives you the power to bolster your Privileged Access Management (PAM) defenses with the proper secure connection handshakes that fit your needs. There is much more to this update in customer release documentation, including the SFTP client custom launcher through SSH tunneling update. Make sure you check out the complete list of exciting updates. But for those reading this that are not using Secret Server—make sure you can change the behavior of SSH proxy to expect a secure SFTP connection!

Cost of a Data Breach Report 2022 – IBM Security
Simple controls for a complex problem
Securing your organization's privileged access and managing a growing number of identities is a complex issue. This does not mean that your PAM solution needs to be hard to use and require vendor professional services or other outsiders to make changes. To maintain ease of use, this release includes updates that make Secret Server even more accessible, configurable, and manageable across your PAM environment.
This latest release includes TOTP history accessibility, a new Session Monitoring Search UI, a customizable view, refreshed admin page, and other UI improvements. Check out the release notes for the complete list of updates.
You know how important securing your privileged accounts is daily and how difficult it can be to keep your organization on track with security protocols. We are excited that these latest updates continue to keep you secure and protected while making Secret Server easy to use.
For our Secret Server customers, you can find the list of updates and details in your Secret Server release notes. For those who have realized you may not have what you need from your current PAM solution, we invite you to check out the 30-day free Secret Server trial today. The trial can be used in conjunction with your current PAM solution giving you the opportunity to really compare features and functionality.
IT security should be easy. We'll show you how.
Try Secret Server and experience how fast and easy IT security products can be.