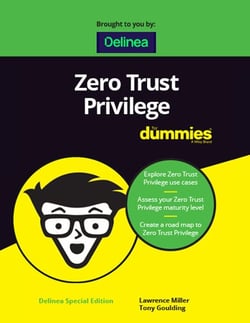 FREE EBOOK
Zero Trust Privilege for Dummies
An estimated 80% of breaches involve privileged access abuse (according to Forrester Research). Such violations include highly visible supply chain breaches at Solar Winds, Microsoft Exchange, and Colonial Pipeline. Along with an Executive Order from the Biden administration in the U.S., this has brought zero trust into the spotlight.
While there are many starting points on the path to zero trust, all roads still lead to identity, with privileged access controls being the lowest-hanging fruit. With an identity-centric zero-trust approach, organizations can ensure least privilege access by verifying who or what is requesting access, the context of the request, the risk to the access environment, and just-in-time/just enough privilege elevation.
New attack surfaces arise with cloud transformation projects and the adoption of multiple cloud platforms, big data, DevOps, containers, and microservices. Decrease your risk of a breach with a modern PAM solution founded on zero trust principles.
To learn more, explore the Zero Trust Privilege For Dummies eBook for:
The fundamentals of zero trust and the emergence of zero trust privilege: what it is, why it's needed, and its benefits
Real-world use cases for zero trust privilege in organizations of all sizes and industries
How to assess your organization's zero trust privilege maturity level
How to get started with zero trust privilege
The myths and realities of zero trust