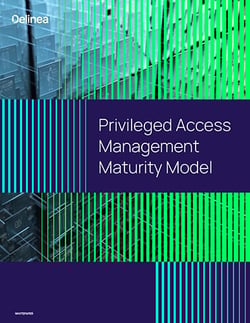 Privileged Access Management Maturity Model
Step-by-step roadmap for your PAM journey
The Delinea PAM Maturity Model is a framework to help you systematically lower risk, increase business agility, and improve operational efficiency.
Understanding the stages of Privileged Access Management (PAM) maturity will help security and IT decision-makers prioritize activities and align budget and resources.
Based on cybersecurity best practices and our work with over 10,000 customers of all types, we've identified four phases that organizations progress through as they increase PAM expertise and adoption:

Phase 0: High Risk – recognize risk and plan for action.

Phase 1: Foundational – gain visibility over attack surface and begin to reduce it.

Phase 2: Enhanced– expand PAM policies to reduce overprivileged users.

Phase 3: Adaptive – increase automation and intelligence for continuous improvement.
In this whitepaper, you'll learn the security controls and processes required to achieve each level of PAM maturity. This step-by-step method for PAM adoption helps you build a strong security foundation that supports you as you scale.
Get your copy to assess your organization's current PAM maturity and navigate the next steps in your PAM journey.