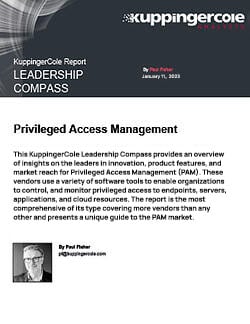 Thycotic and Centrify, now combined as Delinea, are recognized as Privileged Access Management (PAM) Leaders
Get a complimentary copy of the 2021 KuppingerCole Leadership Compass for PAM
Learn why Delinea delivers combined strengths for PAM

Thycotic and Centrify, merged in 2021 and now Delinea, were evaluated separately by KuppingerCole for the 2021 Leadership Compass for PAM.
Thycotic and Centrify were recognized as Product Leaders, Innovation Leaders, and Market Leaders.
Thycotic and Centrify were recognized as Leaders in all correlated views including Market Champions, Technology Leaders, and Big Ones (an Innovation/Market Matrix).
Both companies earned "strong positive" ratings across all major evaluation categories including security, functionality, deployment, interoperability, and usability.
Get the full report to understand how Thycotic and Centrify performed at the top of the PAM leadership matrix, and make your own assessment about whether these recognized Leaders are better together as Delinea.