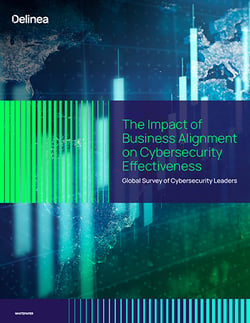 Cybersecurity versus the Business
Is cybersecurity misaligned to business outcomes?
As organizations navigate a complex IT landscape and uncertain economic climate, alignment between cybersecurity and business outcomes is essential for success. The better-aligned cybersecurity is with the business, the more resilient the business becomes, AND the more the business can thrive.
Delinea surveyed over 2,000 security decision-makers in 22 countries, working in enterprises with over 500 employees, to understand the current state of business and cybersecurity alignment. More precisely, we wanted to identify, with data, the kinds of attributes that have a meaningful impact on business enablement, including metrics, skills, and organizational structures.
Download the report to see what your peers say about:
Challenges they face when aligning cybersecurity with business goals

How and if cyber teams are measuring business outcomes as well as security activities

Negative impacts of misaligned goals on business growth and security posture

How perceptions, challenges, and goals differ by role, function, company size, and security maturity

Organizational questions that impact alignment, such as whether a CISO should report to the CIO or CEO
You'll get a picture of the current situation and understand drivers that determine not just cybersecurity posture, but also business success.