Top 5 trends to watch for at Black Hat 2021
For the past fifteen months, in-person events have been off the table…until now. The Delinea (formerly ThycoticCentrify) Team is excited to head to Black Hat 2021, which is back for a hybrid in-person/virtual version of their event featuring the very latest on the future of information security research, development, and trends.
This year we have identified five trends expected to surface at this event, which is taking place in-person August 4-5 at the Mandalay Bay in Las Vegas, NV, and virtually over the same dates.
According to the latest Gartner forecast, information security spending is expected to grow to 12.4% to reach $150.4 billion in 2021, which is up from their 2020 forecast of 2.4% to reach $123.8 billion. All of which is indicative of a threatscape that continues to gain momentum with sophisticated threat actors and a rapid increase of complex security needs for the modern enterprise.
It's no wonder why the global cybersecurity community looks to conferences like Black Hat to learn about how they can grow and collaborate to keep their organizations safe from cyber-attacks.
Check out our top five expected trends you can learn about during Black Hat below!
Ransomware Attacks
According to Gartner, 27% of all malware incidents reported in 2020 can be attributed to ransomware. With ransomware attacks dominating the headlines these days, it's essential for organizations to strengthen their ability to protect user workstations. Focusing on preparation and early mitigation is key to defending your organization's data.
Protecting a Remote Workforce
Securing access to critical infrastructure resources has been a consistent theme over the last year or so, gaining momentum with the onset of the COVID-19 pandemic. Protecting a remote workforce has now become a top priority for the modern enterprise, as organizations of all sizes are at an increased risk level with remote work. Be on the lookout this year for insights into the vulnerabilities that put work-from-home employees at risk.
Cloud Attack Trends & Best Practices
With digital transformation moving at light speed, organizations need to stay resilient, as bad actors continue to infiltrate cloud apps and leverage a significant expansion of the attack surface. Expect to hear about a number of different cloud attack trends and best practices in areas like phishing, cloud access providers, and cloud infrastructure.
Data Breaches
The U.S. Federal government has made it clear that cyber-attacks on critical infrastructure are a national threat and has issued several efforts to both the private and public sectors to shore up their cybersecurity postures and stop data breaches. This means organizations need to focus on cybersecurity with a layered security strategy, which also means investing sufficiently in their security to lower the risk of cyber-attacks. Look out for ways to learn how to strengthen your overall security posture and reduce risk.
Insider Threats
Did you know that insider threats actually have their own National Awareness Month, started by the US National Counterintelligence and Security Center (NCSC)? According to Gartner's recent findings, "the number of insider incidents has increased by a staggering 47% in just two years, with employees being 85% more likely to leak files now than they were pre-pandemic." The importance of safeguarding your organization's critical information should be top of mind, by learning how to be proactive with the right combination of policies, training, systems, and oversight.
Get Cutting-Edge Cybersecurity Insights at Black Hat USA
As a leader in cloud-ready Privileged Access Management (PAM), Delinea wants to empower you to protect your modern, hybrid enterprise against identity-based cyber attacks. It's time to take action and reduce vulnerability to ever-increasing threats.
Visit us in the Business Hall
Stop by our in-person or virtual booth August 4-5 and chat with a cybersecurity expert, and enter to win fabulous giveaways like a Peloton Bike, an Xbox X Console, an Oculus VR Headset, and so much more!
Learn How to Stop Identity-Related Cybercrime from a White Hat Hacker
Delinea chief security scientist and Advisory CISO Joseph Carson will present a virtual session, "From Zero to Full Domain Admin: Tracking the Digital Footprint of a Ransomware Attack – a Real-World Incident." Learn how cyber-attackers gained access to systems, which tools they used, and how Active Directory elevation was achieved.
Turn to Delinea (formerly ThycoticCentrify) at Black Hat to learn how your organization's resilience can be strengthened with our market-leading PAM solutions to enforce least privilege access at scale for humans and machines, in the cloud and on-premise.
We can't wait to see you at Black Hat 2021!
If you liked what you read here, be sure to share with your co-workers and friends — we want to hear from you! Follow us on Twitter @Delinea or find us on LinkedIn (don't forget to use the official hashtags #BlackHat and #BHUSA when you post)!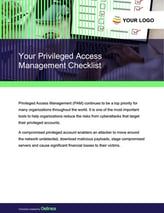 FREE CHECKLIST


Need a step-by-step guide for planning your strategic journey to privileged access security?
Start with our free, customizable PAM Checklist.