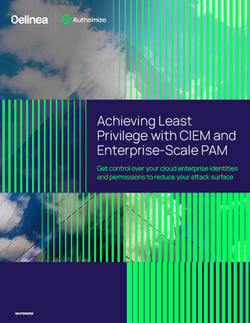 Achieving Least Privilege with CIEM and Enterprise-Scale PAM
Get control over your cloud enterprise identities and permissions to reduce your attack surface
Identity and access management for cloud services is often—time-consuming, disorganized, and prone to errors and misconfigurations. The result is over-privileging—or giving accounts more access than they need—which goes against security best practices and increases risk.
To solve these challenges, a new type of approach known as Cloud Infrastructure Entitlement Management (CIEM) leverages adaptive analytics and machine learning to improve the effectiveness of IAM. With CIEM, identity-centric solutions incorporate data-driven recommendations to intelligently govern entitlements to cloud and hybrid environments. They shorten the path to right-sizing permissions and help you set them correctly the first time.
This whitepaper serves as a starting point to help you eliminate risky standing privileges and provides a foundation for a least privilege security framework.
Get your copy to learn:
What least privilege security is
Some of the common challenges to least privilege
The shortcomings of identity access management solutions for the cloud
How Authomize addresses Cloud Infrastructure Entitlement Management
How the exciting new partnership between Authomize and Delinea streamlines and automates PAM for the cloud