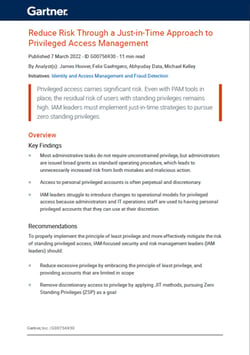 Gartner® on Zero Standing Privileges
Reduce Risk Through a Just-in-Time Approach to Privileged Access Management
Standing access to IT systems increases your risk of privilege compromise and misuse
As per Gartner, "IAM leaders struggle to introduce changes to operational models for privileged access because administrators and IT operations staff are used to having personal privileged accounts that they can use at their discretion."
That's a lot of concentrated risk. An attacker who gains those privileges wins the lottery – an all-access, anytime pass to your more sensitive systems.
Gartner recommends replacing broad, standing privileges with just-in-time (JIT), just-enough access. This security best practice reduces the window of access in terms of scope and duration, shrinking your attack surface.
This latest guidance for PAM and IAM leaders outlines multiple approaches to implementing JIT for different types of privileged users and situations.
It even includes a worksheet you can use to determine the best ways to apply JIT privileged access to your organization.
Get your complimentary copy from Delinea and see what the experts say.
Gartner, Reduce Risk Through a Just-in-Time Approach to Privileged Access Management, 07 March 2022, James Hoover, Felix Gaehtgens, Abhyuday Data, Michael Kelley
Gartner is a registered trademark of Gartner, Inc. and/or its affiliates in the U.S. and internationally and is used herein with permission. All rights reserved.