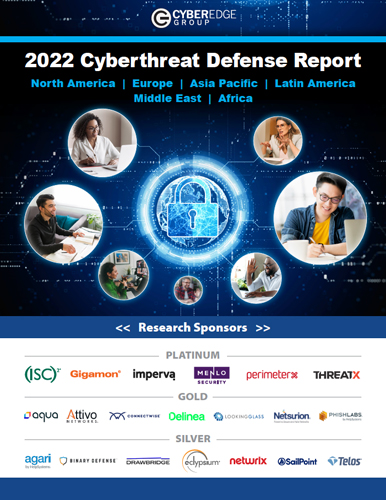 FREE REPORT
2022 CyberEdge Cyberthreat Defense Report
40.7% of companies are victimized by six or more attacks
What is the likelihood of your company being compromised by a cyberattack in 2022?
After a year of unprecedented ransomware attacks and uncertainty created by COVID-19, the 9th annual Cyberthreat Defense Report reveals what thousands of enterprise IT security pros around the world are thinking and doing to reduce risk.
See what the research shows about how IT security teams are overcoming their top challenges.
This data-packed report covers:
Frequent attack vectors and vulnerabilities

Metrics for measuring the impact of cyber attacks

Benchmarks for security investments



The Cyberthreat Defense Report is much more than a collection of statistics. It also includes practical recommendations for reducing your risk of cyber attack. You'll learn effective strategies for reducing remote access risk and securing hybrid cloud and multi-cloud environments.
Want more data points from the 2022 Cyberthreat Defense Report?
Get more key metrics and insights from our infographic included in the report. You'll see critical trends including the growth of security budgets, ransomware, and the top compromised countries included in the survey.
Cyberthreat Defense Report Webinar
Join CyberEdge Group's Founder and CEO, Steve Piper, and Tony Goulding, Cybersecurity Evangelist at Delinea, as they highlight the key findings from the 2022 Cyberthreat Defense Report.