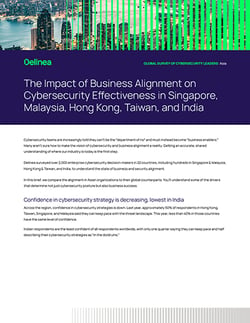 The Impact of Business Alignment on Cybersecurity Effectiveness in Singapore, Malaysia, Hong Kong, Taiwan, and India
Delinea surveyed over 2,000 enterprise cybersecurity decision-makers in 22 countries, including 300 leaders across Singapore, Malaysia, Hong Kong, Taiwan and India, to understand the state of business and security alignment. In this brief, we compare the alignment in Asian organizations to their global counterparts.
In this report you will find out:
What is the state of cybersecurity strategy in these five countries in Asia?
What impact has economic uncertainty had on companies in this region?
Which of these countries have the best alignment between business and cybersecurity?
What were the common consequences of misalignment and how do they differ across the region?
Download the full survey to find out more about the impact of the misalignment between business and cybersecurity on Asian companies.