A Hybrid Cloud Approach to Server Privileged Access Management
Protecting Your Hybrid Cloud Infrastructure from Cyber Threats
69% of all companies were affected by ransomware in 2021, and according to Forrester Research, 80% of these breaches involved privileged credentials. Lateral movement between, and privilege elevation on servers, are the most common tactics in today's Ransomware-as-a-Service threat environment. Every organization needs modern Privileged Access Management (PAM) to combat ransomware and data breaches that often go together in double extortion scenarios.
Join Tony Goulding, Cybersecurity Evangelist at Delinea, for an in-depth discussion about mitigating such attacks and reducing your risk in hybrid multi-cloud environments with a modern approach to PAM.
Who should attend this webinar?

IT Security

PAM experts

IT operations: Systems Administrators, Helpdesk Teams, Infrastructure Management, Workstation Management, etc.
What will I learn?

The role Server PAM plays in safeguarding your hybrid cloud assets and driving down risk

Why just-in-time privilege elevation is a key component of your PAM strategy, and how it aligns with best practices like Zero Trust

What to look for in a modern Server PAM solution that can scale with and be an integral part of a modern hybrid cloud infrastructure strategy
Get the answers to these important questions:
Most of your sensitive and business-critical data lives on servers. Are you sufficiently controlling access to them?

Is your hybrid cloud server protected, and what are the best practices today?

Are you managing your servers in a unified and centralized way?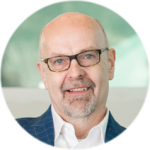 Tony Goulding
Tony is a Cybersecurity Evangelist and Technical Marketing Architect at Delinea. He authors technical white papers, best practices guides, demos, blogs, byline articles, and Dummies and Conversational Geek eBooks. He contributes to Delinea's go to market strategy, sits on expert CISO panels, and speaks at industry events to help customers unleash the power of Extended Privilege Management through Delinea's XPM solutions. He is ITIL and CISSP certified.