Two Sides of the PAM Coin
There are two sides of the PAM Coin. Password vaulting is one. Privilege Elevation is the other. 
A vault is a great first step in protecting your company from identity-related data breaches. When considering a mature Privileged Access Management (PAM) solution, and for best practices like Zero Trust and Zero Standing Privileges, you need a vault, and you need privilege elevation. You need both sides of the PAM coin.  
How do you effectively control administrator activity and access with privilege elevation? Are you enforcing strong authentication and identity assurance with Multi-Factor Authentication (MFA) for all privileged access? Cloud providers offer some basic IAM capabilities, but without unified management of access to other platforms, are you leaving gaps in security and increasing the likelihood of breaches?
In this webinar, Tony Goulding and Brad Shewmake will walk us through these important concepts and considerations for PAM maturity to secure the modern enterprise.  
Who should watch this webinar?
IT Security

CISOs and Executive Leadership

IT operations: Systems Administrators, Helpdesk Teams, Infrastructure Management, Workstation Management,

etc

.

Professionals looking to move into these roles



What will I learn?
What the two sides of the PAM coin are and why you should be using both for effective privileged access security.
Insights on how to effectively reduce your attack surface.
How least privilege and just-in-time access benefits elastic, agile environments.
Get answers to these important questions:
Why is it essential to assess your enterprise's PAM maturity and implement the Zero Trust model in your security framework?
How should organizations approach and evolve PAM maturity?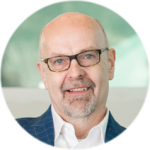 Tony Goulding
Tony is a Cybersecurity Evangelist and Technical Marketing Architect at Delinea. He authors technical white papers, best practices guides, demos, blogs, byline articles, and Dummies and Conversational Geek eBooks. He contributes to Delinea's go to market strategy, sits on expert CISO panels, and speaks at industry events to help customers unleash the power of Extended Privilege Management through Delinea's XPM solutions. He is ITIL and CISSP certified.

Brad Shewmake
Brad is responsible for Delinea's public relations, industry analyst relations, executive communications, and social media programs