Cipher Lock: Store Physical Secrets in Secret Server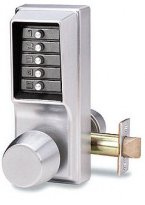 Cipher locks are still widely used today, but a major concern still exists and that's how to manage and secure them. A cipher lock is a lock that is opened with a programmable keypad that is used to limit and control access to a highly sensitive area. Many organizations use cipher locks to control access to their server rooms, development laboratories, or storage rooms. Cipher locks are easy to maintain and allow for quick combination changes when necessary, but the problem arises when the combination is changed. How do you store the code and manage access?
Cipher Lock Template
Secret Server privileged access manager ships with about 20 customizable templates, including a Cipher Lock template. From the 'Create Secret' tab select the 'Cipher Lock' template.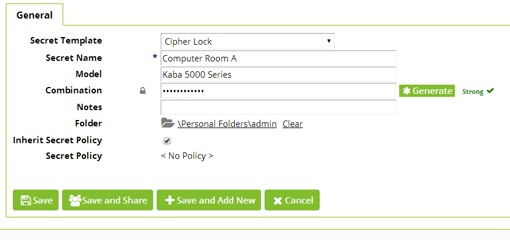 Many offices have multiple cipher locks used to restrict access to different rooms so be sure to specify which room in the Secret Name field (See above) so that when you need to search for the Secret in Secret Server it is easy to find. Insert the other relevant information in the fields. Next, determine who needs access to the Cipher Lock Combination and share the credentials by clicking the 'Save and Share' button.

Now that you have the Cipher Lock combination securely stored in Secret Server you have the ability to change the combination when needed (After an employee leaves or someone changes departments) and share the new combination securely.
TIP: Need to change the combination quickly? Make your life easier by storing the reset instructions as a file attachment on the Secret.
Cipher Locks aren't going away any time soon. As an affordable way to restrict access to different rooms, organizations will continue to use them, so it is critical to keep them secure. Combinations must be locked down and controlled. What other information have you stored in Secret Server other than passwords that have helped your team manage access?
Related blog post: SSL: Beyond the Basics: Ciphers
What does cybersecurity like this cost?
Not as much as you think.
Get a quote for the ONLY enterprise-grade PAM solution available both in the cloud and on-premise.