Secret Server reduces human error and more
If you could reduce the risk of a breach associated with human error, why wouldn't you?
Embracing automation for Privileged Access Management (PAM) reduces a key concern noted by organization security leaders—human error. The side effect of automation is improved efficiency, efficacy, and productivity across teams with Secret Server.
Privileged Access Management has evolved, and if your credentials vault has yet to evolve, you may have a problem. And soon. For those who need to manage privileged access for human identities, machines, workload, and applications, it is critical to remain secure and implement as much automation as you can to avoid burning out your teams.
Let's talk automation and what you should expect from your privileged credentials vault—you may be surprised! Your credentials vault should provide you, your organization, and your team with visibility, control, and oversight while providing seamless automation to reduce workloads, simplified reporting, and security controls to protect privileged account access.
Roles and Rules to mitigate errors
To error is human and non-technical teammates error a lot (by the way, I am a non-technical user, so I can say that!) People are creatures of habit, and let's face it, non-technical users are notoriously bad at password security, oversharing credentials, and creating complex passwords. Don't forget that remembering complex passwords is not easy, leading to writing them down or saving them—in who knows where!
PAM admins can make their life a little easier by automating complex tasks for all users, such as rule-based password generation with complexity parameters and passphrase options to enforce policies—without slowing anyone down. To improve the efficacy of your credentials policy, all privileged and non-privileged users should have access to your Vault to store and access credentials securely.
This latest Secret Server release allows Admins to enforce a mandatory passphrase when needed in Secret Server enhancing the already secure access protocols in place.
Just a quick note on non-technical users, business users. Secret Server lets you set parameters for different users giving your IT and security teams visibility and oversight of access to all business-critical information even if it is not a privileged account. Learn more about business users.
Consider leveraging role-based access controls (RBAC) to take it further. Setting policies and permissions for who, what, and how long any identity has access to privileged accounts goes a long way to support the least-standing privilege (zero trust) model. It alleviates the on-the-fly decisions the IT teams must deal with throughout the day. Just a quick note – most cyber insurance providers and auditors like to see controls on access beyond just a basic vault showing that you may be less of a risk.

Password rotation meets customized simplicity
When did you last rotate your passwords for accounts, including your service accounts? Perhaps the last time you came up against an audit, or never in fear of breaking dependencies. Did you know you can put your passwords in perpetual rotation, on a schedule, or post check-in without impacting productivity?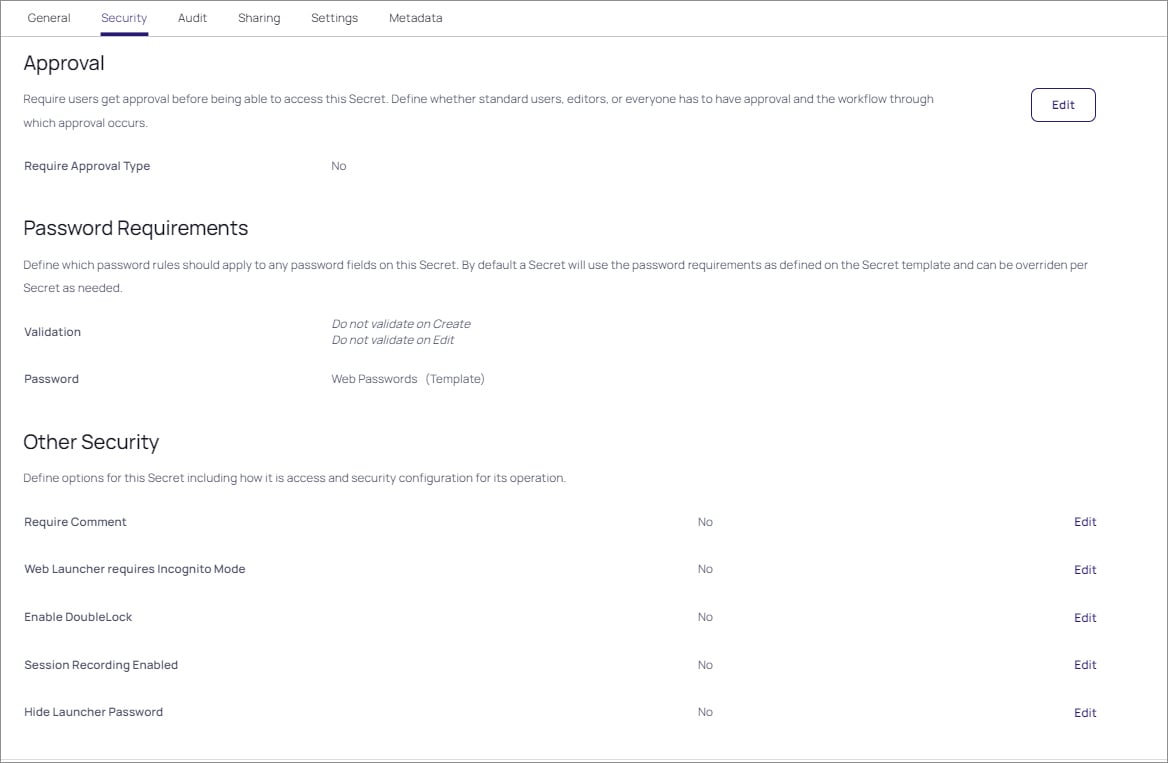 Secret Server enables admins to set rules on secrets, folders, and users.
Secret Server Check Out functionality is easy to use and forces accountability by providing access to a single user for a single privileged session. When that session expires or is no longer active (another automated task), Secret Server rotates the password without impacting access for others.
The Heartbeat functionality automatically tests secrets and automatically alerts you when a Secret has been changed outside of Secret Server – allowing you to automatically rotate that password to bring control back into Secret Server.
When your entire organization leverages the right Vault, Secret Server, to access business-critical accounts and information, you reduce risk and gain oversight without impacting productivity.
Audits and reporting simplified
Reporting is crucial in today's digital landscape to maintain oversight for privileged accounts, but if you are not using the right vault, it may be all-consuming for your team. Not only does Secret Server simplify reporting with out-of-the-box templates, but it also makes cyber insurance, executive reviews, and audit reporting painless. There is automation here too. You can schedule reports on secrets and accounts and create custom reports with charts and graphs for visualization. You should expect this from all PAM vaults, by the way.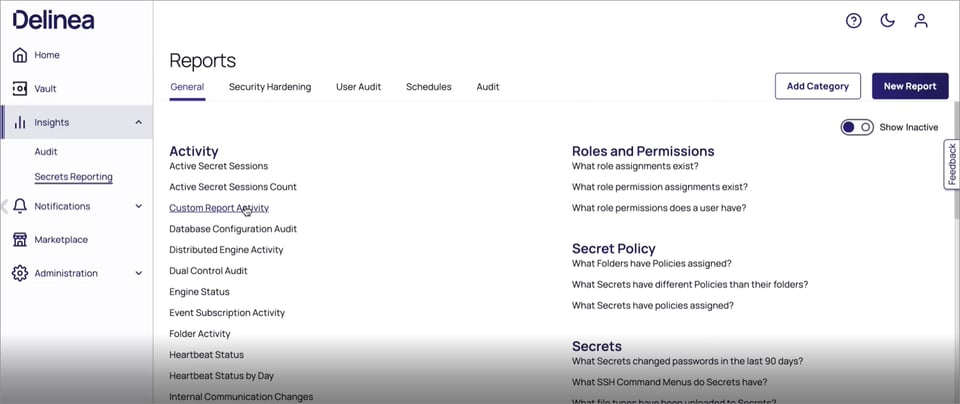 Secret Server remains easy to use as we evolve to ensure you stay secure, efficient, and compliant with industry mandates and cyber insurance PAM requirements. Expect more from your PAM vault—more control, visibility, and security. But you should also expect less complexity, less cost, and fewer gaps in your attack surface.
Either way, automating complex tasks to remain secure, reduce human error, and quickly provide proof of compliance with easy-to-access audit reports will make your day easier and your organizational leaders happier. Let's not forget the side effects you may experience with increased productivity, efficiency, effectiveness, and access security. Learn more about Secret Server and the latest updates.
What does cybersecurity like this cost?
Not as much as you think.
Get a quote for the easiest-to-use enterprise-grade PAM solution available both in the cloud and on-premise.