Introducing the Delinea Platform: seamlessly extending Privileged Access Management
In an ever-expanding, increasingly complex IT environment, managing privileged access is a serious pain. You must find identities hidden in identity forests and make sure access control policies are consistent across identity types. Time gets wasted and it's easy to make mistakes.
As we described in our vision for Extended PAM, standalone, disconnected security tools only do part of the job, but they don't give you a holistic view of identities and privileges across your expanded attack surface. The Privileged Access Management (PAM) industry—you—deserve better.
Introducing the Delinea Platform
Today we release the new Delinea Platform, our answer to the call for Extended PAM. The Delinea Platform seamlessly extends Privileged Access Management (PAM) to provide just-in-time access with easy, adaptive controls that help IT and security reduce risk while enabling growth, efficiency, and scalability.
The Delinea Platform is a set of cloud-native shared services that underpin Delinea's industry-recognized PAM solutions, empowering end-to-end visibility, dynamic privilege controls, and adaptive security.
With this release, organizations can centrally manage and access privileged credentials through Secret Server, administer VPN-less secure remote access and session monitoring for third-party vendors and contractors in Remote Access Service, and integrate with critical IT and security solutions from the Delinea marketplace all from the same cloud interface. Initially bringing these capabilities on the Delinea Platform simplifies the first, most critical step in PAM maturity.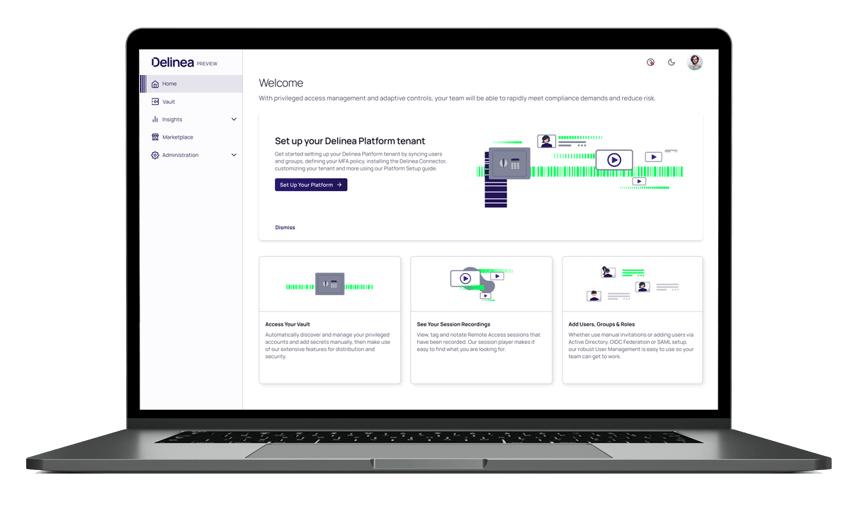 As more capabilities are introduced to the Delinea Platform through a continuous delivery development process, you will be able to see and manage all user, machine, and application identities, permissions, privilege configurations, and relationships from a central location. With Delinea's industry-leading PAM solution, Secret Server, at the core, the platform seamlessly extends Privileged Access Management (PAM) across your company's multi-cloud infrastructure.
The consistent user experience and centralized policies in the platform make it easier for teams, inside and outside your network, to adopt your security protocols for privileged access. No more orphaned privileged accounts. No more switching screens. No more reliance on outdated, legacy solutions or wasted time.
The vision for the Delinea Platform is to:
OBSERVE: End-to-End Visibility
Discover, vault, and secure access for every type of credential, identity and environment. Identify and access analytics and integrations in one platform across your PAM solutions while reducing friction with seamless access controls and policy updates.
CONTROL: Dynamic Privileges
Control privileges across all roles and processes continuously in a single interface. Elevate privileges as needed with governance workflows and flexible, granular rules.
ADAPT: Extended Security
Reduce friction to increase adoption by embedding PAM seamlessly into your environment and workflow via analytics-based access controls and centralized policy updates.
Beyond these capabilities, the Delinea Platform will serve as the foundation for additional advanced PAM capabilities.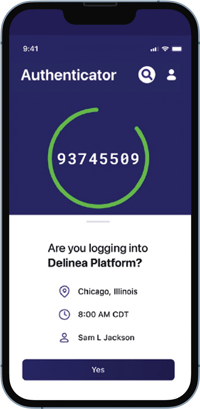 Here are some additional details of the initial capabilities at launch:
Enterprise vault

- The Delinea Platform is built on the industry-leading Secret Server Cloud. Secret Server is easy, fast, and offers more flexibility, security, and centralized controls.

Remote access control

– Employees working from home and third parties can securely access systems they need to be productive, directly from their browser, without a VPN. Remote session monitoring provides needed oversight.

Extensible MFA

allows administrators to create policy-based rules for different groups to ensure a perfect balance between scrutiny and usability.

Integrations Marketplace

- Add integrations directly from within the platform to save time and reduce friction. You can connect your organization's ITSM, SIEM, CI/CD tools are more to embed PAM in your workflow and make PAM practices easier for your organization to adopt.
Get a first look at the new Delinea Platform
Learn about the new Delinea Platform and see how it will help you extend Privileged Access Management across hybrid and multi-cloud infrastructures. Join the webinar to learn how you can use this next-generation solution to solve your PAM challenges.