Global survey report regional edition: cybersecurity leaders reveal region-specific challenges facing companies across the world
The state of cybersecurity is ever-changing. The tools and strategies that worked for your organization last year may not be the most effective today, or even tomorrow. The global security landscape demands constant vigilance, especially as new cyber threats and vulnerabilities are uncovered every day.
At Delinea™ we interviewed 2,200 IT security professionals across 19 countries, created global cybersecurity benchmarks, and prepared regional reports for:
ANZ

: Australia and New Zealand

Asia

: Singapore and Malaysia, Japan, Taiwan and Hong Kong, India

Africa and Middle East

: UAE and Saudi Arabia, South Africa
Brazil

Europe

: France, Italy, Spain, Germany, Sweden, Netherlands, Poland, Turkey, UK&I
UK and Ireland
Some regions had more success than others in addressing cybersecurity challenges. In this regional edition, we've defined a current security landscape by including types of threats, security measures, priorities, and strategies used in a particular country.
Our report on the state of global security serves as a comparison on how your region performs against the global cybersecurity benchmark. See what IT security leaders in your country are doing and what is missing in the regional approach. Download the report here.
Here are some key highlights from the report:
1. Australia and New Zealand companies were the most breached globally
Our survey found that security managers in Australia and New Zealand (ANZ) are breached more often than their counterparts in other countries. Only 6% of ANZ security leaders say they haven't experienced a breach or cyberattack over the last 18 months. This is significantly lower than the global cybersecurity benchmark of 16%. As 84% of ANZ managers say they're limited by budget, ANZ managers should focus on increasing their cybersecurity budgets to execute their strategies and select the right tools to fight threats.
2. UK & Ireland C-suite needs to be onboard
According to our survey findings, UK and Ireland (UK&I) C-suites show less awareness of identity security, with only 29% seeing it as an enabler for better business compared to 37% globally. In addition, 26% of interviewed security managers don't see identity security as a business priority compared to 20% globally. UK&I security managers need to promote the importance of identity security with the business leaders to reach their objectives and strategy implementation.
3. European security managers must fight a wide range of threats
In this report, we have interviewed security professionals from 9 European countries and regions. We found that although the loss of sensitive data is the top and clear biggest threat, all other threats have almost an equal rate of significance. European security leaders must have an active security strategy backed by solid cybersecurity tools to fight multiple threats, as all these impact categories can seriously harm an organization.
4. Asian countries differ greatly in executing security strategies
On average Asian countries perform active security strategies with 37% of security leaders saying they fight cyber threats actively, and 29% saying that their approach could be better with the right resources and budget. However, a whopping 43% of Indian security managers say they haven't an active strategy in place. This contrasts with the approach of Taiwanese and HK security managers, where 50% of them said they're actively fighting threats.
The problem for Indian security managers isn't an unsupportive C-suite, as the C-suite seems to have a good understanding of the importance of identity security. Our findings show that budget constraints seem to be the challenge, as 84% of Indian managers say they are limited by budget and resources. Only concrete implementations of cyber defenses can bolster identity security, and an organization's C-suite must support these initiatives with appropriately sized budgets.

5. Great cybersecurity landscape in Brazil
Of all surveyed countries, Brazil has the most positive cybersecurity landscape. Security managers in Brazil have the most supportive C-suite, the most proactive cybersecurity strategy, and the lowest number of breaches.
6. Loss of sensitive data is a top issue for South Africa and the Middle East
Loss of sensitive data is the biggest issue for IT security managers in 11 of the 19 countries and regions we've surveyed. It's also the biggest issue for South African and Middle Eastern businesses. However, Middle Eastern Security managers also suffer equally from financial costs through loss of business and regulatory fines.
Having been so heavily impacted by identity breaches resulting from stolen credentials, securing these credentials should be a top priority for these countries.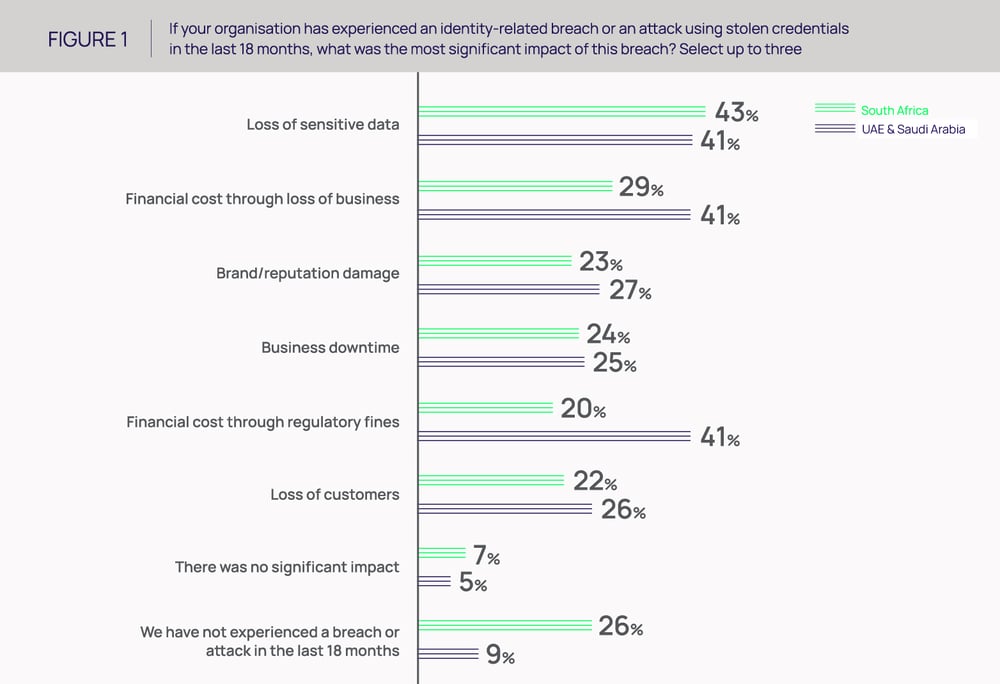 Now that you're armed with the key cybersecurity benchmarks and highlights from Delinea's Global Survey of Cybersecurity Leaders reports, I highly recommend you download the Global Survey of Cybersecurity Leaders: Regional Edition to gain an even deeper understanding of how security leaders across the world deal with and interpret cybersecurity threats.