AI and the Future of Intelligent and Dynamic PAM
The hype surrounding AI has been especially powerful. The promise of cognitive technology is alluring for any company looking to drive innovation or save time, money, and stress.
With so much potential for generative AI to change the way we work, the challenge for organizations will be to absorb these capabilities and demonstrate business value.
We believe for organizations to adopt AI, it must be practical. For that reason, we're looking at AI not as the next "shiny object" but through the lens of business capabilities. As the SaaS PAM leader, we're investing in AI that solves real-life customer problems.
Delinea's DNA is all about ease of use and fast time to value for our customers. As with every product innovation, we're partnering with our customers to set the priorities for AI.
We're excited to bring the AI wave of innovation to PAM, with advanced capabilities for anomaly detection, policy development, and alert visualization. These advances leverage artificial intelligence to help customers identify privileged access abuse more quickly and respond more effectively.
Read on for a peek into Delinea's AI innovation process and a preview of what's coming soon.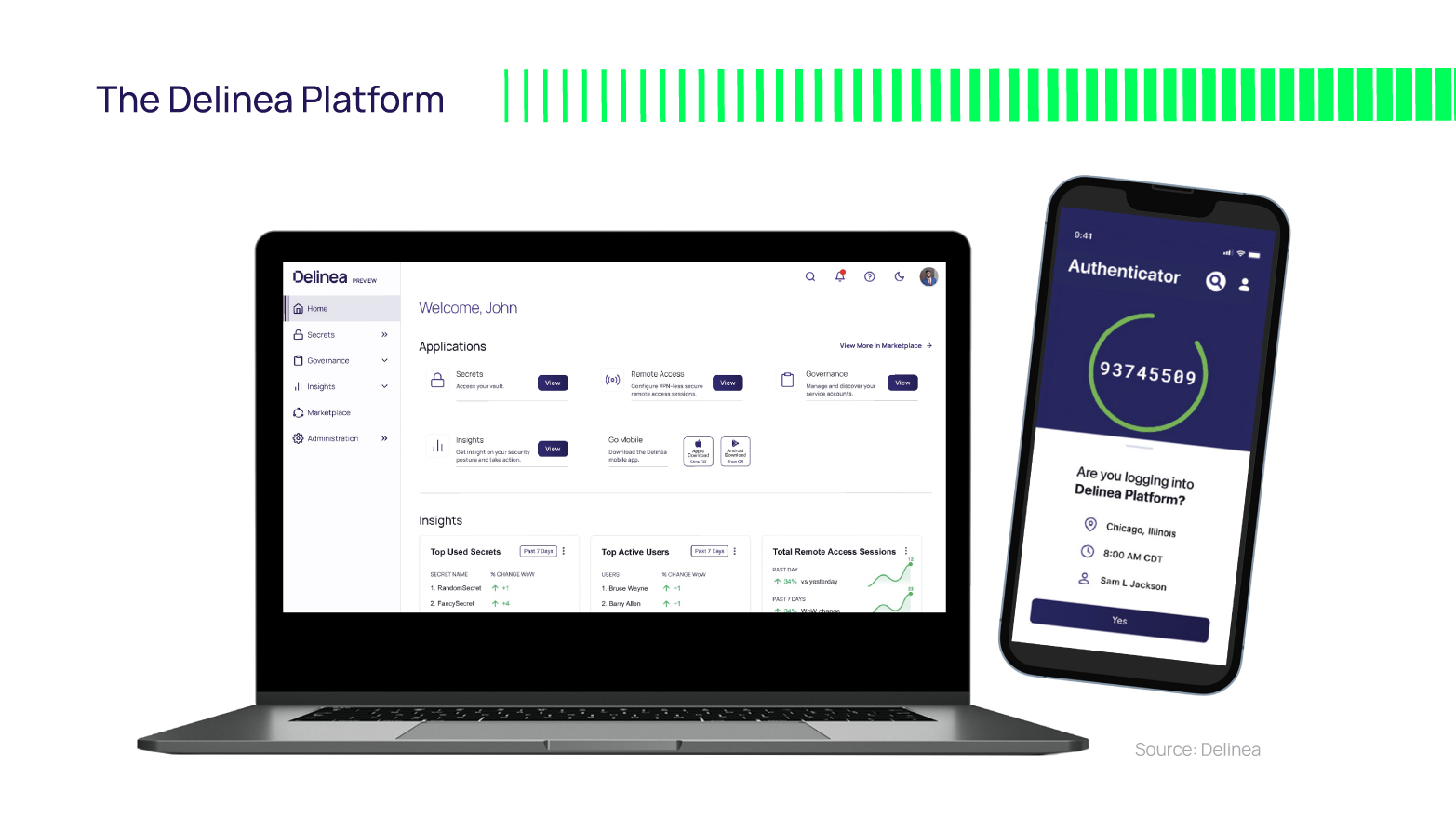 Delinea's approach to innovation: listen, learn, and adjust
The Delinea Platform creates the foundation for ongoing innovation. Our solutions are built in a modern, modular way, with a cloud-native architecture, so it's extremely easy for us to stitch new functions on top of existing services. And, importantly, because everything is built with the same user experience, those functions are extremely easy for our customers to adopt.

Bringing AI to the Delinea Platform is a prime example of our innovation process. First, we developed a short list of use cases that we hypothesized could be improved with AI. Then, we brought our teams together for a hackathon to apply their expertise. We prioritized the most compelling use cases to apply AI technology in a very directed and usable way.
From that point, it was "Go Time" for our developers.
These folks are used to working fast. We push code from developers' desks to production in under an hour, which includes running all the automated tests, making sure all the guardrails are up, and pushing it into production. A bug fix, if needed, can be addressed in an hour.
In the AI case, we went from having this hackathon to having production-quality code in one month.
We then began iterating with customers. We like to get code in front of them as quickly as possible, even if it's not functionally complete, rather than bake it for a year. We have a model of continuous deployment that allows customers to opt into new features selectively. We take even our earliest designs to some of our strategic customers—those that are PAM leaders—which allows us to learn and crystallize the functions. They tell us loud and clear what works and what doesn't.
That agility also allows us to keep our quality extremely high and risk extremely low. When you do the sort of Big Bang waterfall releases, you're literally pushing thousands of code changes to your customers at once. Instead, we push changes in a very atomic system, so we can listen, learn, and adjust.
Using this process, we're now rolling out AI capabilities in stages across the Delinea suite of PAM solutions.
Anomaly detection and response
We're focusing here first because that's where our customers feel the most pain. Most organizations have millions of log files capturing privileged user behavior and no way to analyze them effectively. For many customers, someone in a security center is literally watching videos, looking for bad behaviors and bad actors. Sessions take too long to review. It's too easy to miss things. And it takes critical and expensive resources away from other priorities.
With Delinea's new AI-enabled session recording, we turn those logs into a story. Then we apply that story to an AI model that looks for anomalous behavior. For example, let's say somebody logs into a Windows workstation, opens up Active Directory, and adds a new user. It may be an anomalous situation based on that person's role. As a result, AI triggers an alert and recommends action.
AI advancements build on the analytics service in the Delinea Platform, which can detect suspicious privileged credentials access and alert administrators. Originally launched in 2017 as Privileged Behavior Analytics, this capability takes advantage of years of practical experience monitoring privileged behavior to build a model that detects misuse.
Now, instead of watching videos or reviewing log files, a human can go to the 10 log files that are actually bringing in interesting information. The signal-to-noise ratio is reasonable for them. Based on AI-enabled recommendations, customers can choose to limit privileged access, enforce additional MFA requirements, or revoke access altogether.
AI-driven capabilities in the pipeline
Using algorithms and intelligent models that are constantly learning from large volumes of privileged access activities, the Delinea Platform will become more predictive and proactive. As the PAM SaaS leader, we'll continue to push the AI envelope, but always stay focused on practical solutions that make our customers' lives better.
Delinea customers are currently testing several additional capabilities we plan to bring to market in the coming months. Here's what you can expect to see:
Adaptive MFA enforcement:

C

ontextual MFA enforcement will be able to raise or lower the threshold for MFA challenges based on risk factors that affect an identity's security profile.  
Dynamic policy framework:

Privileged access policies will become more dynamic, recommending policies that are aligned with least privilege best practices and providing recommendations for policy adjustments that can improve security and productivity.  
Customer experience –

We see numerous ways to apply AI not just in our products, but in all the ways customers interact with us. For example, we're applying AI to the vast knowledge base in our internal technical documents. This enables our support organization to answer questions and solve customer problems faster.
How will we measure success?
By replacing manual tasks, AI will certainly reduce labor costs and alleviate stress for an already overburdened workforce. For cybersecurity, however, the potential is even greater. According to IBM, using AI in cybersecurity can reduce the time to identify and contain a data breach by up to 33%, saving organizations up to 39% on the cost of a data breach.
Those are the goals our industry is working towards. As a PAM leader, we're laser-focused on helping you achieve them.