Delinea Certification Program
As cyberattacks become more frequent and impactful, the need for skilled cybersecurity experts is escalating quickly. One way to distinguish yourself from other cybersecurity professionals is to achieve a Delinea certification.
Our professional certifications validate Delinea product competence and provide indispensable technical training for cybersecurity professionals. The goal of the Delinea certification program is to ensure solution implementations and ongoing management of our tools are seamless and adhere to security best practices.
Associate
Designed for partners and customers working towards an Engineer certification that need to build a deep technical understanding of use cases, configuration options, and security best practices
Self-paced, online-only certification
E-learning coursework and an Online Certification Exam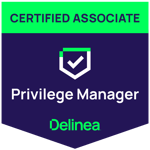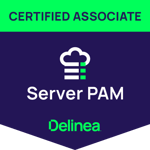 Engineer
Designed to empower customers and partners with the ability to install, configure and manage to best practice
Provides demonstration and validation of capabilities through hands-on lab challenges assessed by a live Delinea Security Academy Expert
Certification Lab challenges constructed to establish proven capabilities and expertise to install and configure Use Cases and successfully troubleshoot break-fix scenarios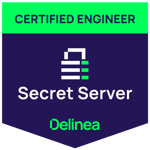 Consultant
Designed to empower partners to create and establish proven expertise with customizations, integrations, and extensibility
Includes both self-paced online coursework, an online exam and hands-on technical lab challenges
Delinea's Consultant Certification tier is by invitation only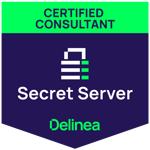 Demonstrate and prove your cybersecurity capabilities with Delinea's Certification program
Expertise in PAM
With this certification, you prove your knowledge of cybersecurity, privileged access, and your understanding of Delinea products.
Gain recognition
Upon completion of your certification, you will receive a printable certificate and digital badges that can be used on your resume and social media accounts.
Earn more and get promoted
Employers regularly use certifications as part of their selection criteria for hiring and promotion, and are willing to pay certified professionals more.
Hands-On Access
Maintain and build-on your knowledge with Not-for-Resale (NFR) license keys (by request).
Questions?
At Delinea, we believe in creating a secure digital environment that helps you define privilege for each user. The result is a faster, more fluid way to work. With the right tools and training, we work together to continuously secure the digital freedom that everyone deserves.