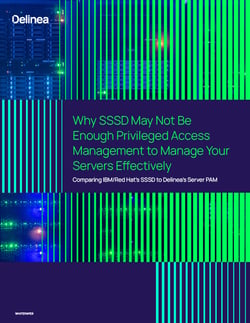 FREE WHITEPAPER
Why SSSD may not be Enough Privileged Access Management to Manage your Servers Effectively
Both Red Hat SSSD and Delinea Server PAM support authentication and identity management in Linux systems. Choosing between the two depends on your organization's authentication needs and the flexibility for customization that you desire.
Each solution has unique features and capabilities designed to help Linux customers reach different objectives and outcomes. Each offers different integration options with external tools and services. Plus, because the user experience is vastly different between the two solutions, each solution requires various levels of operational overhead and oversight.
Red Hat SSSD centralizes identity management and authentication in network environments with a fixed approach. It integrates with Active Directory, caching user credentials locally. SSSD provides a unified interface to manage multiple identity backends, providing centralized authentication and identity management across multiple domains or systems.
In contrast, Delinea Server PAM offers flexible and customizable authentication, so you can control access to system services with a variety of methods and workflows. It is a good fit if you are looking for comprehensive security requirements and authentication needs.
In the comparison guide, you'll learn:
How RedHat SSSD and Delinea Server PAM improve Linux security

The differences to consider when choosing the best solution for you

What to do if you already have RedHat SSSD and want to make a change