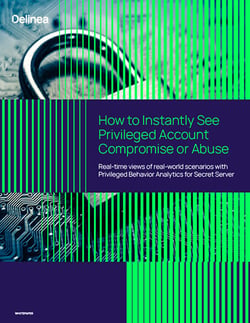 How to Instantly See Privileged Account Compromise or Abuse
Instantly see privileged account compromise and abuse so you can take action

How long does it take you to determine a privileged account attack has occurred? The longer the dwell time before an attacker or malicious insider is discovered, the more damage they can do.

Get the insights you need to take action before the damage is done.

See how Privileged Behavior Analytics for Secret Server helps you answer the following questions:
How many people have access to privileged accounts?
Who are your most active privileged users?
Which are your most active privileged accounts?
Where do users access privileged accounts from?
Which privileged account-related events carry the greatest risk?
Is anyone accessing the account at unexpected times?
Are users accessing accounts they don't normally access?
How will you know if a user is acting suspiciously?
When you have the answers to these questions, you can determine immediate actions to protect your critical assets.