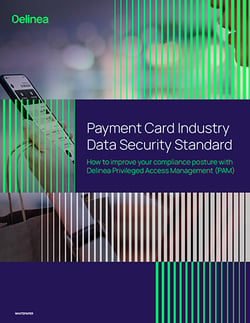 Delinea PAM helps you align with PCI DSS Requirements
Online transactions are easier and faster than ever. Yet, concerns about the safety of e-commerce are rising. Credit card and identity theft are rampant and widescale data breaches are making consumers think twice about sharing information online.
PCI DSS aims to safeguard payment data, but it's one of the most challenging security standards to meet. With the latest revision (PCI DSS v4.0), security requirements are even more stringent, heavily focused on Zero Trust best practices like protecting privileged accounts, managing granular privileged access, and monitoring privileged user behavior.
Organizations that are most successful at achieving and maintaining PCI compliance make it easy for all employees to adhere to policies because controls sit behind the scenes. They provide users with access to resources they need to be productive and get their jobs done – without putting sensitive data at risk or compromising customer trust.
Download the whitepaper to learn:
How changing compliance requirements will impact your security strategy

How PAM best practices help you align with PCI-DSS

What to look for in a PAM solution to safeguard cardholder data