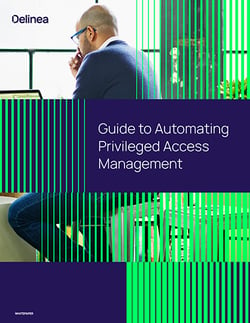 FREE GUIDE
Guide to Automating Privileged Access Management
Automation helps you accelerate and streamline activities to secure privileged accounts with limited or no human intervention.
In this Guide, you'll learn how to leverage PAM automation to increase your return on investment and improve your security posture.
Organizations that use privileged task automation features will save 40% on staff costs, Gartner reports in its

2020 Gartner Magic Quadrant for PAM

.

Instead of spending time on tedious tasks, your IT operations and security teams can focus on higher-value, strategic work.

Automation creates a proven, repeatable process that can be applied consistently so security requirements don't get forgotten.

Advanced PAM solutions are constantly on guard. They continuously check for issues and, if they find them, troubleshoot them right away.
Get your copy of the Guide to Automating Privileged Access Management to see how you can benefit from automating enterprise PAM.