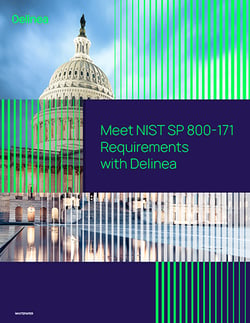 Meet NIST SP 800-171 Requirements with Delinea 
NIST 800-171 requirements are critical if you're a Federal systems integrator, service provider, or any nonfederal system or organization that processes, stores, or transmits Controlled Unclassified Information (CUI) on behalf of a Federal agency or under a Federal contract.
Organizations that handle CUI often have fragmented IT organizations along platform lines, with some staff focused on managing the Microsoft Windows-based infrastructure and separate groups focused on managing Unix/Linux systems and databases. Key provisions of NIST 800-171 address the security risks around identity and access management within these types of distributed, cross-platform environments.
See how Delinea helps you demonstrate how your security program meets the requirements of NIST 800-171. Delinea minimizes your attack surface, improves audit and compliance visibility, and reduces risk, complexity, and costs.
Get ahead of changes coming in 2024 with NIST 800-171 Revision 3 so you can fill in any gaps now.