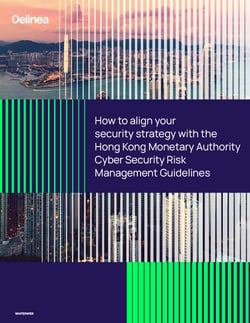 Free Whitepaper
How to align your security strategy with the Hong Kong Monetary Authority Cyber Security Risk Management Guidelines
In parallel with its Cybersecurity Fortification Initiative (CFI), amended in November 2020, the Hong Kong Monetary Authority (HKMA) launched its Enhanced Competency Framework on Cybersecurity (ECF-C). The ECF-C sets out the competency standards for cybersecurity practitioners in the Hong Kong banking industry and is a helpful guide for reducing risk and protecting sensitive data and systems.
Learn how Privileged Access Management (PAM) and Delinea can help you align with HKMA guidelines so you can demonstrate security best practices to regulators, auditors, customers and partners.
This whitepaper will guide you on the use of this framework to meet and exceed HKMA strategy recommendations through:
the implementation of PAM fundamentals such as vaulting passwords and introducing access policies; or

extension of PAM to fill in gaps in your attack surface, across servers and workstations
Download your copy now.