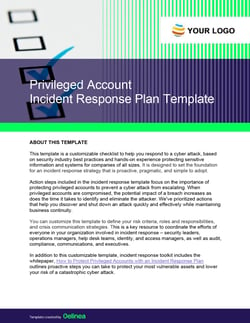 FULLY CUSTOMIZABLE TEMPLATE
Cybersecurity Incident Response Plan Template
Don't wait until it's too late to protect your privileged accounts
Start with this FREE, customizable Cybersecurity Incident Response Plan Template
Delinea's free incident response plan template helps you reduce the risk of a cyber breach becoming a catastrophe. It helps enable your IT operations, security, and incident response teams to form a united front against an attack, coordinate a rapid response, and maintain your business continuity.

The incident response plan template contains a checklist of roles and responsibilities and details for actionable steps to measure the extent of a cybersecurity incident and contain it before it damages critical systems. You can readily customize the template to match your incident response policies, regulatory requirements, and organizational structure.

Recent high-profile hacks make it clear: You must be properly prepared to respond to a cybersecurity breach!
Make a Plan!




Start customizing your Incident Response Template now