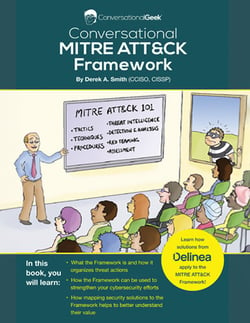 Conversational MITRE ATT&CK Framework
The MITRE ATT&CK Framework is a knowledge base resource containing real-life attack behaviors, categorized by tactics, techniques, and procedures (TTP). It gives you insight into the behaviors adversaries employ to attack enterprise IT solutions, mobile devices, and industrial control systems. Instead of looking at each activity in isolation, the MITRE ATT&CK Framework outlines how an attacker navigates across an IT environment to reach their goal.
Mapping your cybersecurity solutions to the MITRE Framework helps you evaluate your ability to prevent and mitigate threats across the entire attack chain. For example, you'll see how PAM fits into the Framework to address common attack behaviors such as gaining initial access and elevating privileges. Once you know, you can identify and prioritize security gaps you need to close.
Why do we call this eBook "conversational geek"?
The experts who wrote this book know how to turn geek speak into conversations even non-techies understand.
The Conversational Geek eBook gets you up to speed quickly on the MITRE ATT&CK Framework so you can adopt and adapt it to your organization. You can immediately take what you learn and include it in your conversations with your CFO, CEO, and board members so that your organization is better aligned. In addition, you can use the MITRE ATT&CK Framework to elevate the skills of junior members of your cybersecurity team, plan red team operations, and improve your incident response.
Get your copy and start using the MITRE ATT&CK Framework to:
Align teams with a common language

Assess your ability to withstand different risk scenarios

Devise offensive and defensive measures to strengthen your security posture

Build a roadmap for your cybersecurity program

Gain buy-in and budget for the resources you need