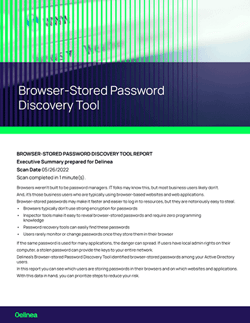 Browser-Stored Password Discovery Tool
See which users have risky stored passwords
Browser-stored passwords are notoriously easy to steal

Security experts recommend you never save passwords using a browser's "Remember Password" feature. Browser-stored passwords may make it faster and easier to log in to resources, but they dramatically increase your risk.
Browsers typically don't use strong encryption for passwords
Inspector tools make it easy to reveal browser-stored passwords and require zero programming knowledge
Password recovery tools can easily find these passwords
Users rarely monitor or change passwords once they store them in their browser
Delinea's Browser-Stored Password Discovery Tool identifies browser-stored passwords among your Active Directory users.
A quick scan of your environment pinpoints which users are storing passwords in their browsers and on which websites and applications. Based on the findings, you can build a prioritized list of actions to help you reduce risk.
Register to immediately download the Browser-Stored Password Discovery Tool
Install it on a Windows-networked computer, run your scan, and see your results right away.
Your information is completely private. Delinea has no access to your system credentials or report results.
By downloading this tool you agree to the
End User License Agreement (EULA)