PRIVILEGE MANAGER FEATURES
Auditing & Reporting
Support regulatory compliance and cybersecurity best practices with dynamic, flexible reporting on endpoint security and application control
Responsive & actionable reporting dashboard
Centralized application & execution event logging
Local user & group activity auditing
Responsive & Actionable Reporting Dashboard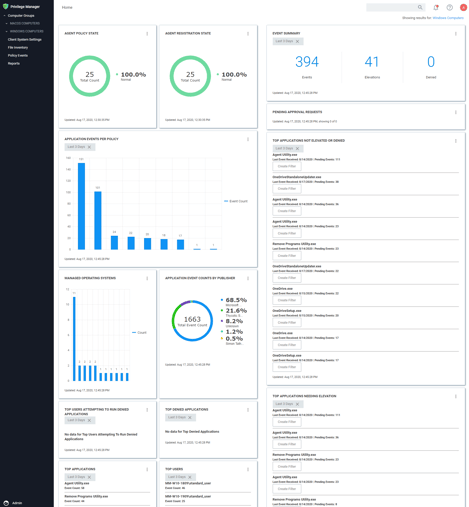 Successful application control demands that you have a complete, real-time understanding of the status and activity of all endpoints. Privilege Manager provides a unified reporting dashboard so you can quickly evaluate the status of endpoints, review activity logs and event data, and access a broad library of reports. Responsive and fully configurable, Privilege Manager's dashboard reporting enables you to quickly drill down into reports across any dimension (time, geo-region, OS, status…) to evaluate activities and trends. From the dashboard, you can also set up automated alerts to stay informed of potential problems.
Start a Free 30-Day Trial of Privilege Manager
Centralized Application & Execution Event Logging
Privilege Manager can record all executable events on managed endpoints so you can review, search, and analyze these logs in a unified manner without leaving the console.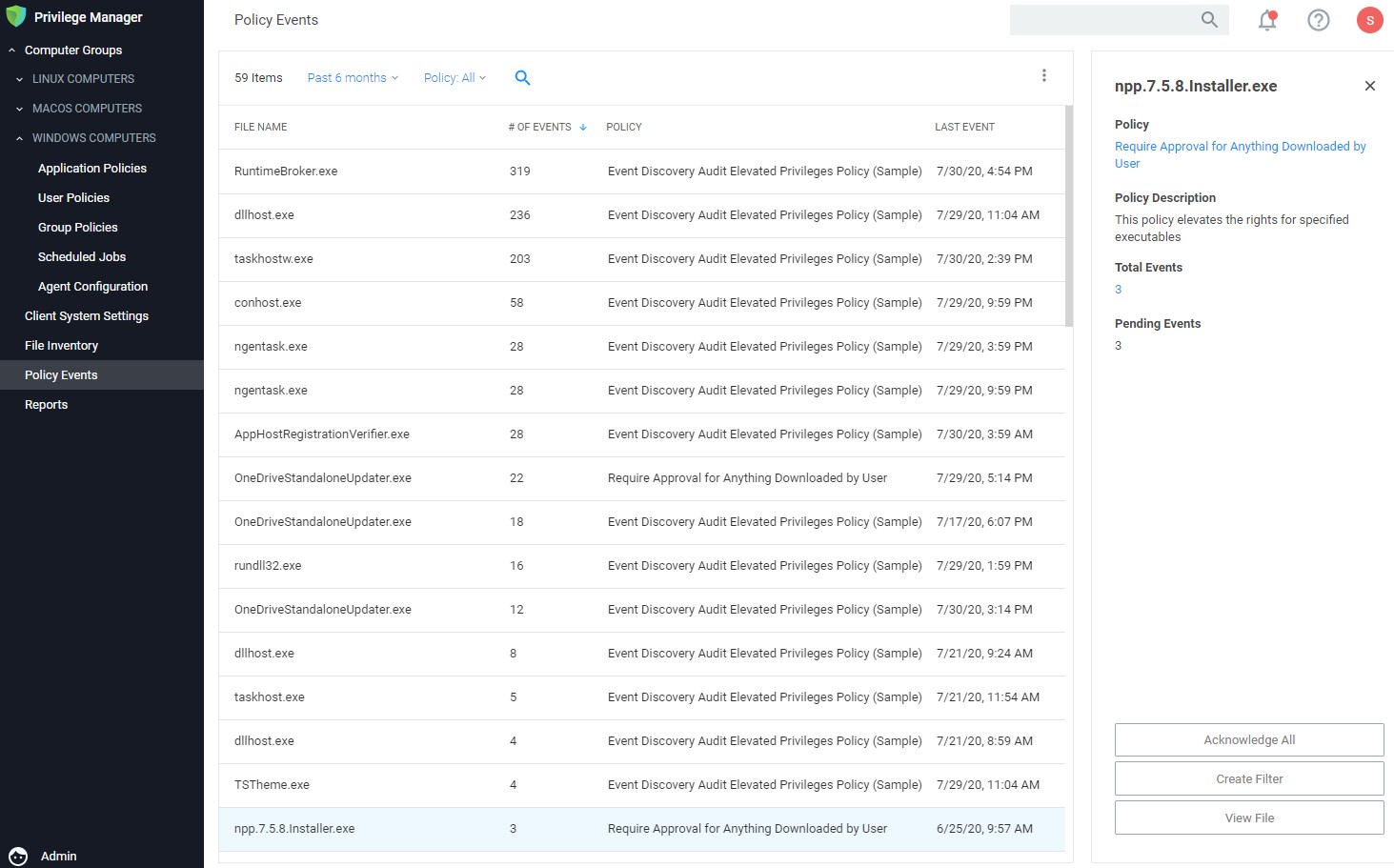 Local User & Group Activity Auditing
The ability to audit and review the activity of local users and groups is essential to retroactively identify problematic activity and reduce risk. Privilege Manager lets you swiftly review and search across all User and Group activity associated with privilege escalation on every managed endpoint.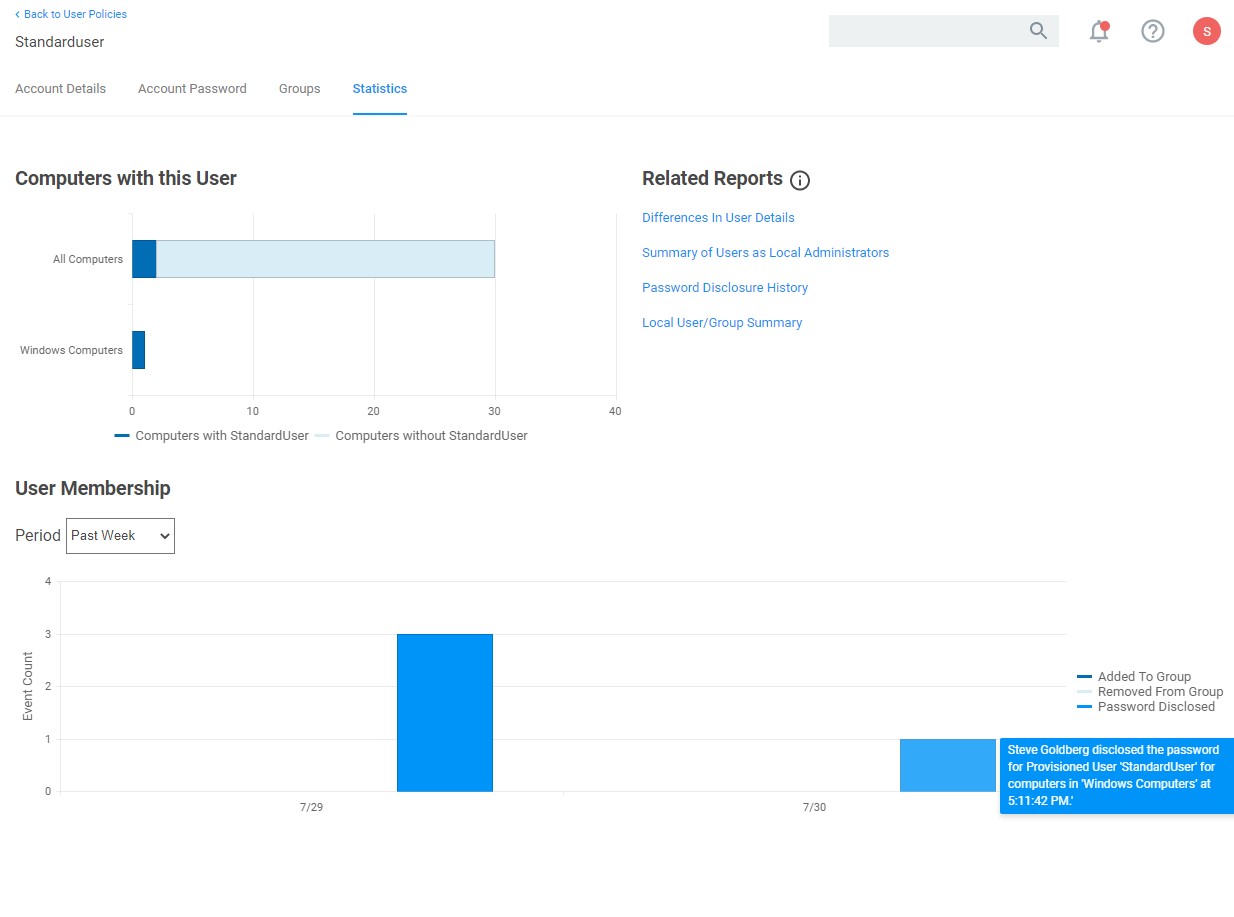 Agent & OS Reports
The lightweight Privilege Manager agent is a critical component of Delinea's application control, giving you the ability to evaluate the health and status of agents in real time. Privilege Manager provides pre-configured and fully customizable reporting on the status of agents and endpoint operating systems, including Windows, Mac, and Unix/Linux. Reporting also includes File Inventory for Unix/Linux. In the Privilege Manager reporting dashboard, you can drill into reports based on any dimension and easily export report data to other reporting applications or Excel.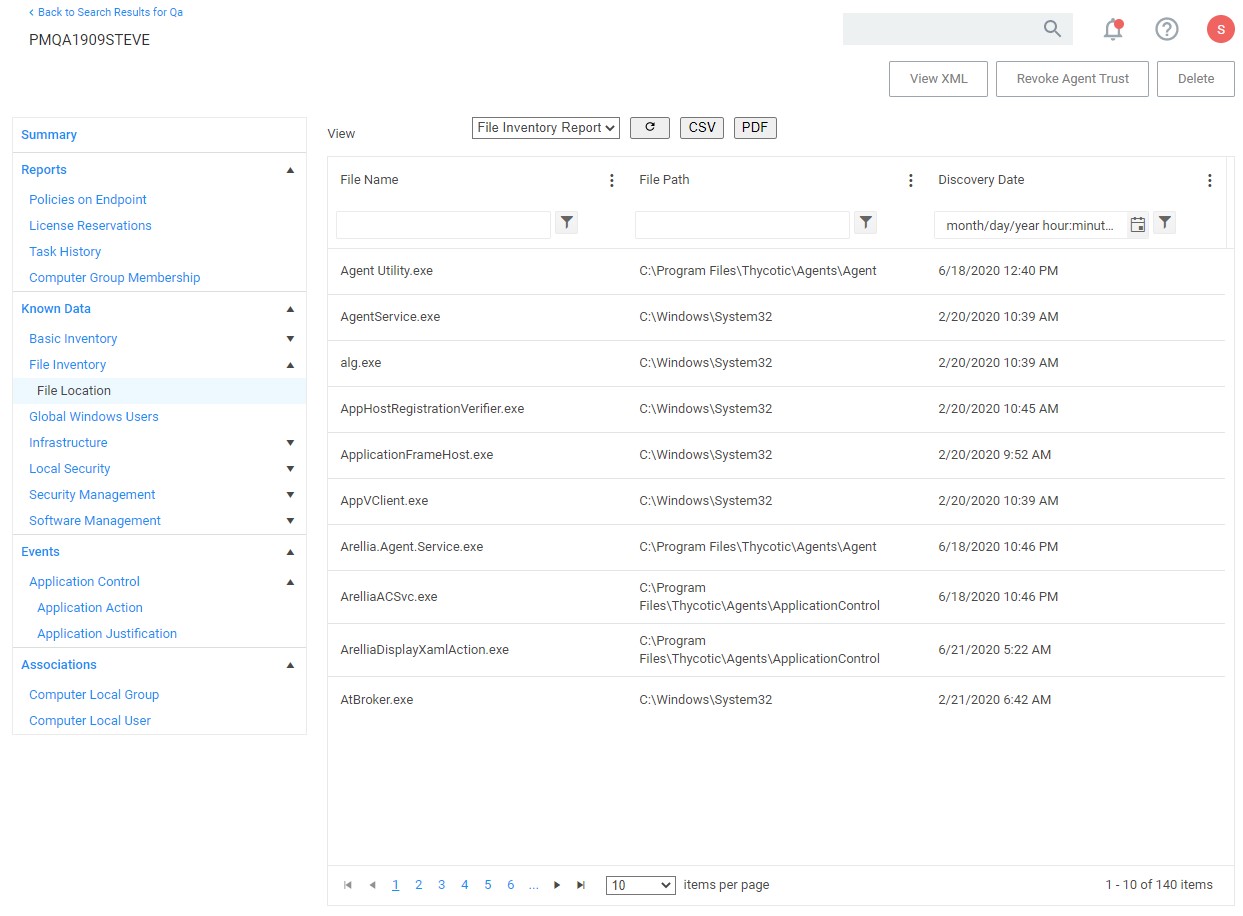 Custom & Scheduled Reports
Privilege Manager's ability to quickly generate fully customized reports and schedule the execution and delivery of these reports is essential to maintaining a real-time understanding of every aspect of your least privilege program.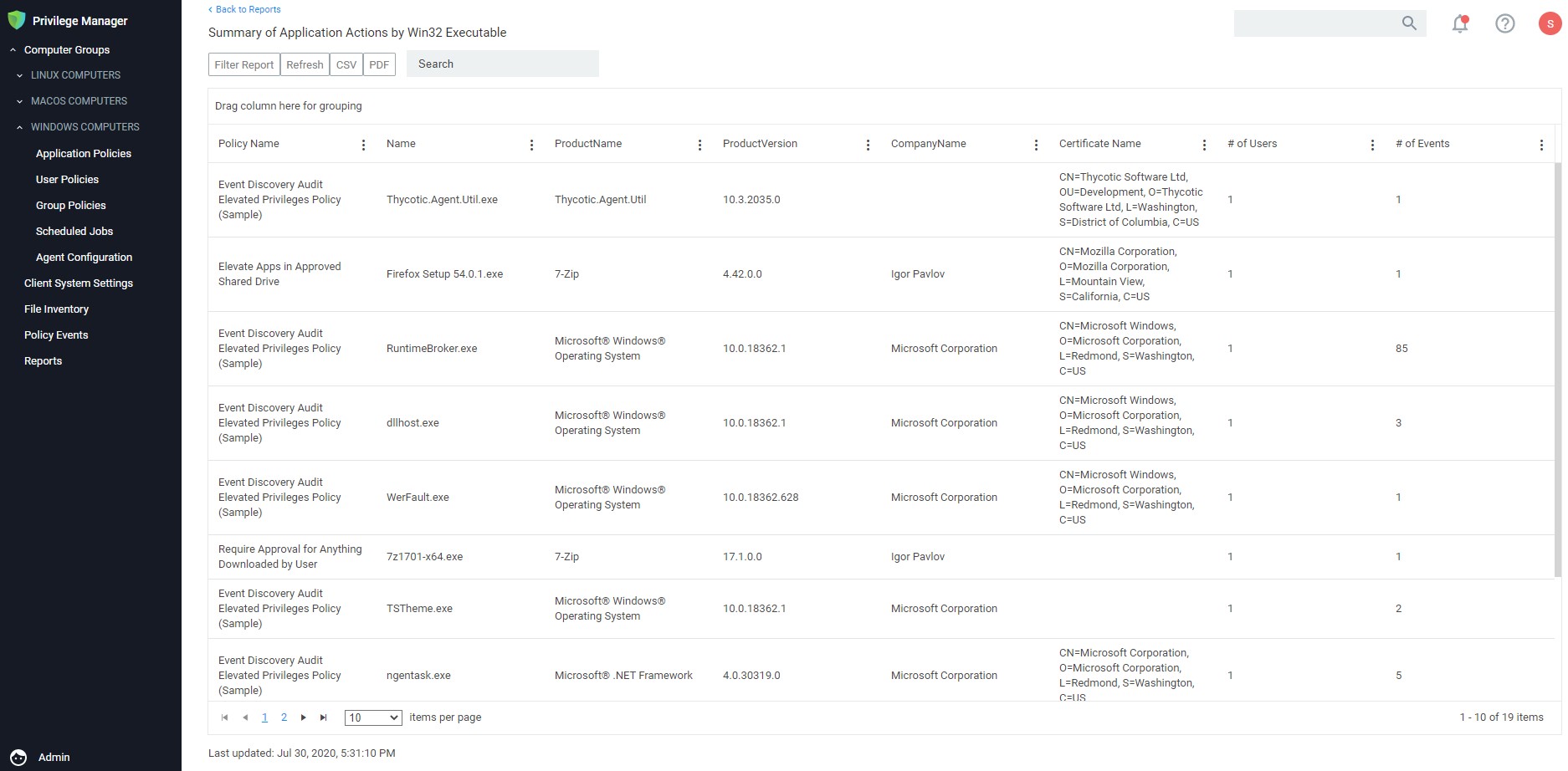 Privileged Behavior Analytics Integration
Privilege Manager Cloud is now integrated with Privileged Behavior Analytics (PBA). Privilege Manager sends data to PBA for advanced analytics and guidance on what applications need to be addressed by policies. There's also a query engine to run reports against that data. (Privilege Manager Cloud only)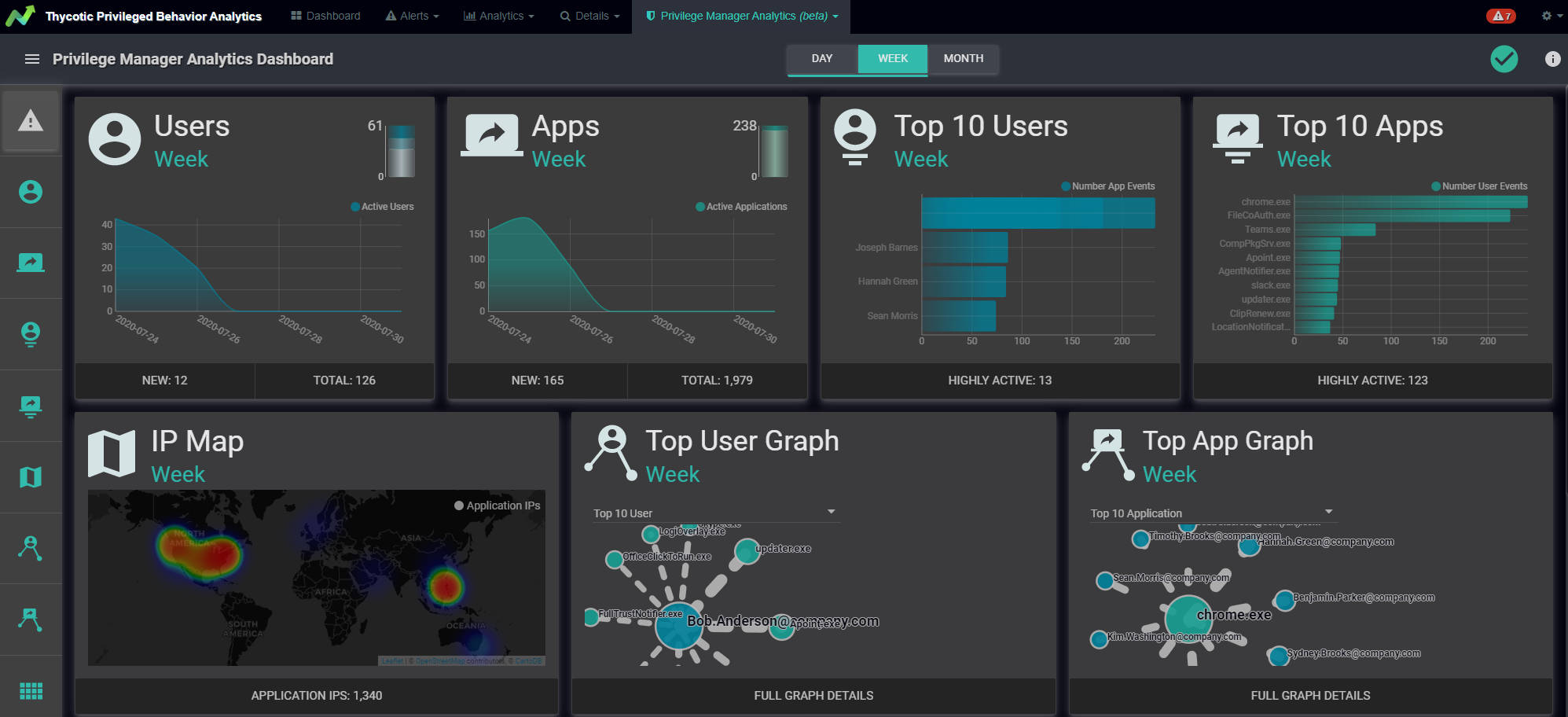 See these Privilege Manager features in action
Privilege Manager can automatically enforce your least privilege security posture through application control.
WATCH THE DEMO!