Level up your Privileged Access
Management with Delinea
Black Hat Conference, August 9-10, 2023
Mandalay Bay, Booth #2553
Visit the Delinea
Virtual Booth
Visit Delinea's virtual booth for your chance at a $100 Amazon Gift Card.
Reserve your spot now or stop by Booth #2553 to speak with one of our experts, see a demo, and learn more about privileged access that works seamlessly
Scratch to Win a Black Hat Briefings Pass
Scratch the card and the secret phrase will appear! Enter the message in the form for your chance to win a 2023 Black Hat Briefings conference pass! Visit Delinea Booth#2553 to Level Up and win hundreds of prizes including two PlayStation 5s and a Nintendo Switch!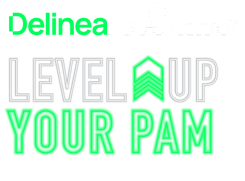 Scratch to try your luck
then meet us at Booth #2553