The Landscape of PAM is Changing – Customers Want Mobile PAM
At Delinea, we're watching the landscape of our customers' Privileged Access Management needs evolve. PAM can no longer be simply a web application hosted on-premise; our customers are telling us they need flexible deployment and access options.
More day-to-day business operations need access to data, applications, and platforms
Organizations are also acknowledging that PAM protection and controls should not only be for system administrators but also their everyday business users in their organization. The landscape of what is considered privileged access is changing too, especially with the distributed nature of the workforce due to COVID-19. And more day-to-day business operations in marketing, finance, and sales need access to data, applications, and platforms that inform their daily tasks.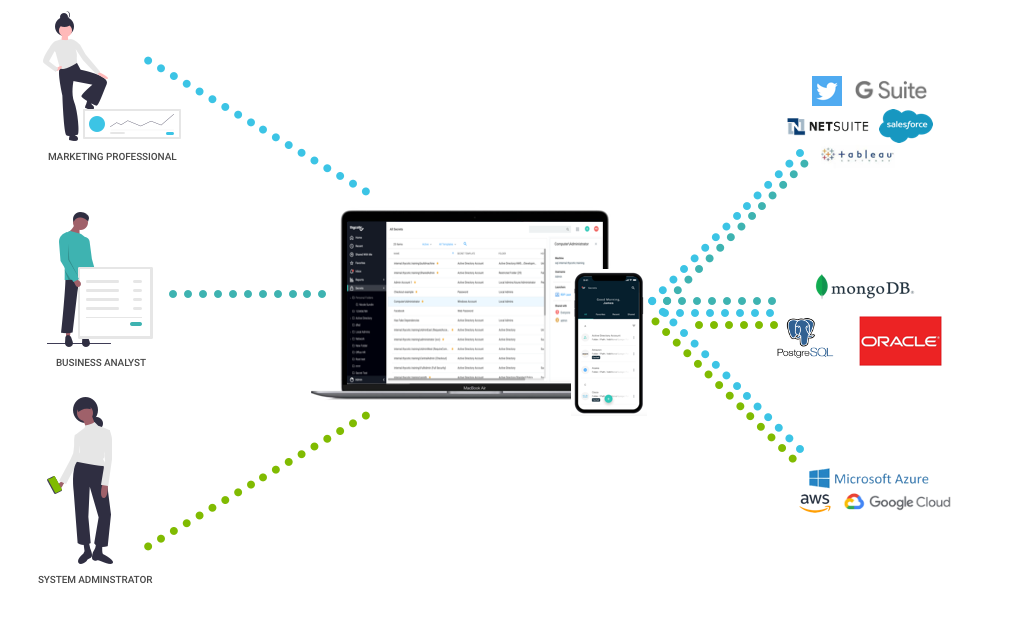 With customers looking to standardize on one piece of technology for all of their Privileged Access Management needs, a PAM solution must provide a user experience that addresses multiple users' needs. This includes the industrial-grade security Delinea users have come to expect, but also an appealing user interface (UI), intuitive user experience (UX), and portable, flexible, and mobile access that fits into numerous workflows.
Understanding this new landscape of work and user needs, Delinea created a new Secret Server Mobile App to provide Secrets access where your administrators and users are—their mobile devices!
Unveiling the New Design of Secret Server Mobile
Our design process has been very similar to our other products. We engaged with numerous customers for feedback and a greater understanding of users' needs. We spoke with marketing and finance business users, workstation technicians, security analysts, and, of course, system administrators to help us build out numerous use cases, including ones that were previously considered "non-privileged" activities. The UX team at Delinea is excited to share the new design of the Secret Server Mobile App.
Secrets creation, utilization, and sharing on the go
Basic functionality, such as Secrets creation, access, and launching, will be included in the mobile app. Launching an application to your phone browser will be easier than ever before. You'll also be able to view, copy, and edit your Secrets, making on-the-go password management simple and flexible.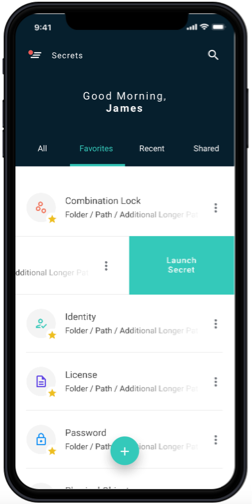 You'll be able to share Secrets on the go with coworkers in two taps, making collaboration for shared Twitter or other business accounts simple and portable.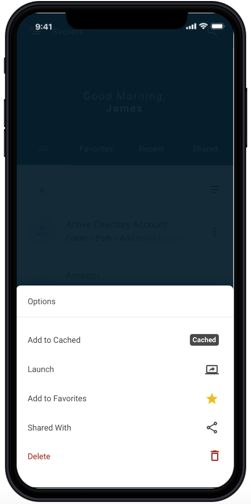 Alerts in action
Alerts and administrative actions on Secrets have been added to the mobile app. These quick actions will allow you to approve Secrets access and workflow requests, whether you're out of the office or eating lunch away from your workstation. Users no longer need to wait for their Secret Owner to be at their computer to approve access to a password or other Secret, which will increase productivity and collaboration.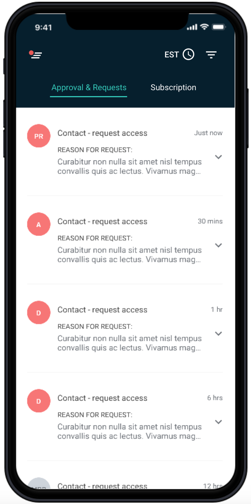 We revamped support for some of the most common use cases, such as caching Secrets for when you're in an offline location, biometric and multi-factor authentication (MFA) log in, Secrets segregation by favorite, recent, and shared secrets, and both folder and Secrets views.
Leveraging Usable Security and Computer Supported Cooperative Work principles, we've created a mobile experience that can be used for all use cases within your company. We're especially proud that our mobile app will fulfill use cases for your business users with security mental models they already use in their personal life, as well as bring an intuitive UX and appealing UI that will increase adoption, bolster ROI and improve your organization's security posture.
What does cybersecurity like this cost?
Not as much as you think.
Get a quote for the ONLY enterprise-grade PAM solution available both in the cloud and on-premise.