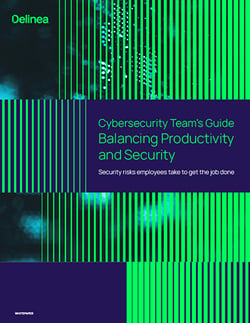 Cybersecurity Team's Guide:
Balancing Risk, Security and Productivity
Remote workers are putting their organizations at risk to get the job done
New research report reveals how employees are handling cybersecurity risks
This latest global cybersecurity research from Delinea takes a close look at the perceived cybersecurity employee risks, what barriers are keeping them from being productive while working remotely, and the security risks they are taking to get their jobs done.

Read this research report to gain a better understanding of the risky habits of your employees and how their behaviors compare with your industry peers around the world. Get a cybersecurity "reality check" that will give you insights into:
How employees understand cybersecurity risks and their impact
What risks they are taking in to accomplish their assigned tasks
What cybersecurity solutions your peers are deploying to manage remote workers
Key takeaways from your cybersecurity peers across the globe
Despite knowing the security dangers, 79% of employees still engage in risky behaviors
The cybersecurity reality check is that employees do not believe they are a target for cyber criminals, or they are not important enough to worry about security risks, making them more likely to engage in risky behaviors.
SMB's are at higher risk than other organizations as they sacrifice security for productivity
Smaller organizations are least likely to have received training in the last year and are least likely to have implemented protection such as multi-factor authentication (MFA).
Cybersecurity awareness among employees falls short with only 44% receiving training in the past year.
Due to a major focus on phishing attacks as the main priority of cybersecurity awareness training, other threats are perceived as lower risk, contributing to riskier behaviors.