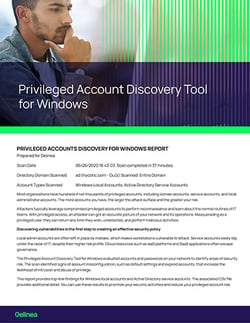 FREE TOOL
Privileged Account Discovery Tool for Windows
Discover vulnerabilities to measure your risk
How well do you know your privileged accounts?
Most organizations have hundreds, if not thousands of privileged accounts, including domain accounts, service accounts, and local administrator accounts. The more accounts you have, the larger your privileged account attack surface and the greater your risk.
The Privileged Account Discovery Tool for Windows evaluates privileged accounts and passwords on your network to identify areas of security risk. The scan identifies signs of account misconfiguration, such as default settings and expired accounts, that increase the likelihood of intrusion and abuse of privileged accounts.
A quick scan of your environment pinpoints your vulnerabilities
Privileged accounts that never expire
Aged passwords for privileged accounts that have never been rotated
Shared accounts
Unexpected administrator accounts
You'll get a detailed custom report so you can prioritize your next steps to reduce privileged account risk.


Register to immediately download the Privileged Account Discovery Tool for Windows
Install the discovery tool on a Windows-networked computer, run your scan, and see your results right away.
Your information is completely private. Delinea has no access to your system credentials or report results.
By downloading this tool you agree to the End User License Agreement (EULA)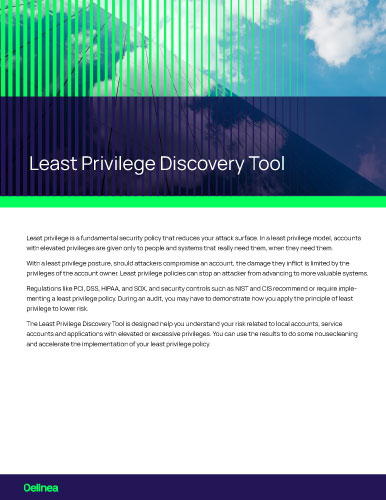 PUT THE REPORT TO USE


Secure your Privileged Accounts

Controlling your privileged account attack surface is critical to maintaining your security posture and meeting compliance mandates.

As cyber threats increase in volume and sophistication, effective and agile Privileged Access Management (PAM) is mission-critical for organizations of every size and industry. Security regulations and best practice frameworks mandate password rotation, privilege account governance, and least privilege policies.

An enterprise PAM solution, unlike IAM solutions or consumer password management tools, protects and manages all privileged accounts.

Use this report, that provides top-line findings for Windows local accounts and Active Directory service accounts, to map out your plan to secure your privileged account attack surface. The associated CSV file provides additional detail. You can use these results to prioritize your security activities and reduce your privileged account risk.