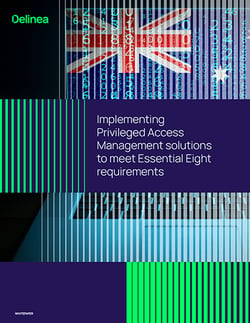 Australian Essential Eight Compliance
The Australian Cyber Security Centre (ACSC) introduced Essential Eight in 2017 as cybersecurity guidance to provide a set of mitigation strategies and defensive measures against threats affecting Australian organisations. Learn the requirements of Essential Eight and how Delinea's Privileged Access Management (PAM) solutions help you to meet them.
Essential Eight measures are designed to prevent and contain cyberthreats like malware, phishing, ransomware, and data breaches. Implementing Essential Eight security measures is much less expensive than the cost of a cyberattack, according to ACSC.
See how Delinea PAM aligns with each strategy suggested in the Essential Eight framework.
Read 'Implementing Privileged Access Management Solutions to Meet Essential Eight Requirements' to discover:
Essential Eight Security Strategies
ACSC's Maturity Model
Purpose of Privileged Access Management
How Privilege Access solutions can help
Download your copy today.