The value of SIEM and how to integrate with Secret Server
This blog post was originally written in 2013. For the most up to date information on SIEM integrations with Secret Server, please visit our support page:
Delinea Integrations - Delinea's Privileged Access Management software logs events to Security Information and Event Management (SIEM) platforms that support CEF or Syslog formats. These events can be correlated on the SIEM side, so administrators gain deep insight into privileged account usage and are alerted when specific events occur in Secret Server.
In the Integrations Center, you will find a list of currently supported integrations.
What is a SIEM tool, and why should I use one?
SIEM (System Information and Event Management) tools are a type of software that pulls in log and audit information from multiple sources across your network. This can include access logs for building entry, computers, servers, network devices, databases, and applications. SIEM tools can aggregate all the data pulled so that you can get a clear picture of what is going on across your network by correlating events. It also provides real-time alerting in the case of security breaches.
Here's a quick example of how a SIEM tool can identify a breach. Say an employee – let's call her Sarah – comes to work every day around 9:00 am EST. She's an IT admin, so she beeps into the building with her key card, logs into her computer, and starts checking on the status of her assigned servers. But, one day her computer is accessed in the middle of the night, long before she typically comes in. She hasn't beeped back into the building and her VPN connection was never activated. This could be a security breach and someone better start asking questions. If the company had a SIEM tool, it would have alerted the company that something was wrong.
Secret Server can easily integrate with your existing SIEM tool. As a privileged account manager, Secret Server records a full audit of credential usage – who accessed what and when. Secret Server can take this audit trail and send all of its information to the SIEM tool using Syslog or CEF format. Once the data is in the SIEM tool, it will compare events from Secret Server to other usage audits throughout your network.
Now, say that Sarah's company used Secret Server with a SIEM integration for all admin passwords. One night, someone logged into one of Sarah's servers as the local admin, but there was no indication that anyone logged into Secret Server to retrieve the password. The SIEM tool would be able to tell that a login occurred without Secret Server and flag it as a potential breach. The SIEM tool would then alert the company of the potential breach.
Secret Server is partnered with two SIEM tools, HP ArcSight and Splunk, Inc., with more integrations in the works. Find out more about Secret Server's SIEM integration and syslog output on our support page.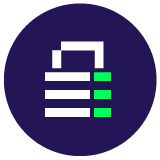 IT security should be easy. We'll show you how
Try Secret Server and experience how fast and easy IT security products can be.