How Recent Analyst Research can Help You Find the Right PAM Vendor
According to recent technology buying decision research sponsored by Delinea, a significant number of executives, IT security, and operations teams look primarily to the advice of independent analysts when evaluating a PAM or PIM solution that would work best for their organizations. That means independent analysis becomes very important in identifying vendors that belong on your shortlist for consideration.
So, it's especially gratifying that Delinea has once again been positioned as a leader by Forrester Research Inc. in its new report entitled, The Forrester Wave™: Privileged Identity Management, Q4 2020. You can get a complimentary copy of the report here.
The Forrester Wave™ uses transparent criteria to score top vendors in a specific industry such as Privileged Identity Management, describing them according to strengths across three categories: current product offerings; strategy; and market presence, and rated according to 24 key criteria. In this most recent Wave report, Forrester evaluated ten PIM vendors. Delinea received the highest possible score in 11 criteria including SaaS/cloud, Innovation Roadmap, and Integrations. Delinea also received the highest possible score for the following criteria: Deployment, Supporting Products and Services, Commercial Model, and PIM Installed Base.
The report emphasized that PIM solutions should support DevOps teams, IT admins configuring cloud infrastructure, bots, IoT, and API-driven workloads. In addition, the report notes that Forrester clients say machine identities are growing at twice the rate of human identities, and the definition of a privileged user is expanding to include non-IT users.
While The Forrester Wave™ report includes analysis summaries as well as scoring rubrics and individual competitor scorecards, the most recognizable part of the report for many is the Wave graphic itself shown here.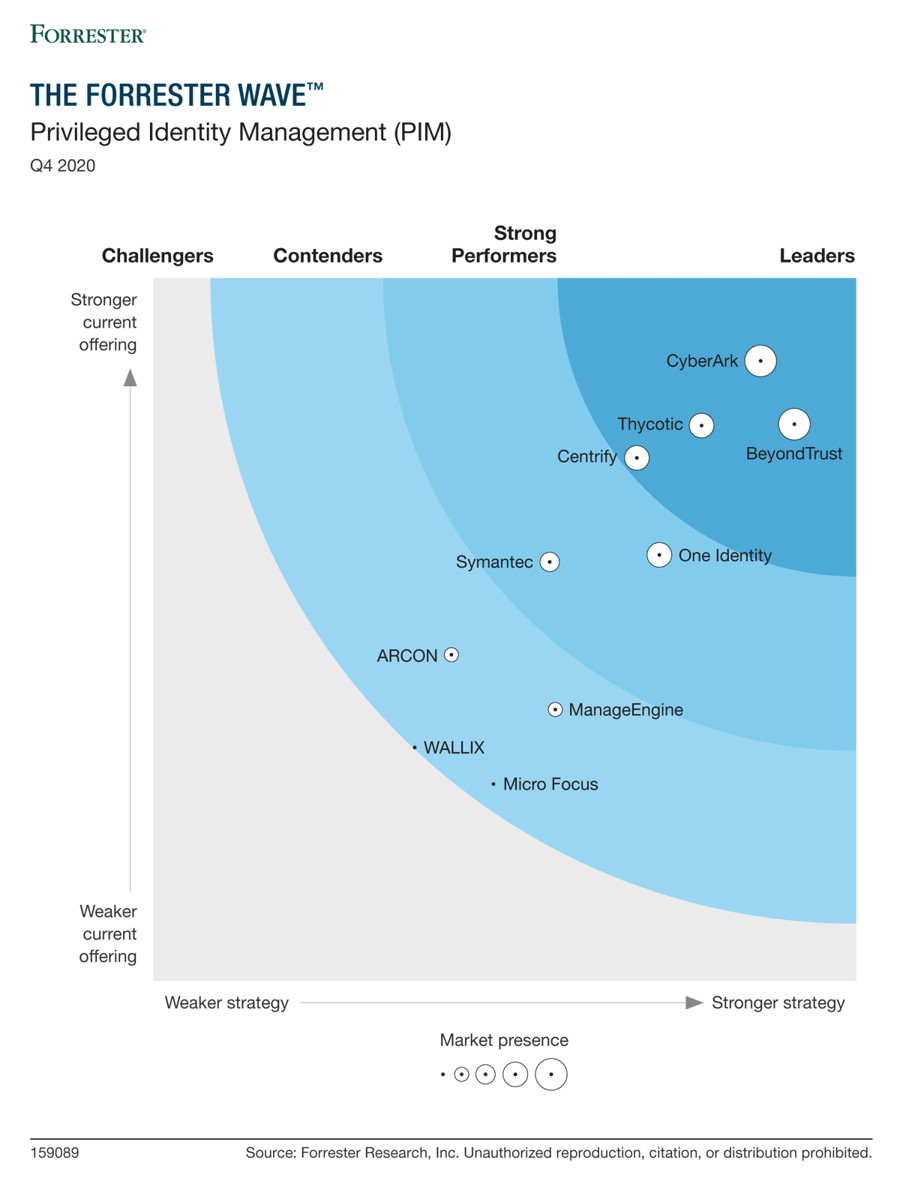 The Forrester Wave™ graphic shown here is divided into different shades of blue that represent relative market positions: Challengers, Contenders, Strong Performers, and Leaders. Based on their strategy and product scores, vendors are positioned to give an easy, visual way to understand where they stand in relation to one another.
Companies positioned higher on the vertical axis of the graphic have higher scores for their current product offerings and dots that are further to the right on the horizontal axis represent companies with a stronger strategy and market presence.
By making its scoring criteria transparent, and asking the same questions of each vendor, Forrester aims to make a fair comparison between vendors that enables companies to make more objective decisions. The Forrester Wave report also emphasized that companies should look for PIM providers that:
Deliver an intuitive user experience and integrated PIM platform.
Provide capabilities that align to a least privilege model and just-in-time access.
Address new PIM use cases with support for DevOps teams, IT admins configuring cloud infrastructure, bots, IoT, and API-driven workloads.
As a leader in this most recent Forrester Wave PIM 2020 report, we feel the report helps validate Delinea's strategy of offering both a full-featured Privileged Account Management-as-a-service option with Secret Server, available in the cloud as well as on-premise. Known for our innovative PAM solutions that are readily adopted by IT teams because they are so easy to deploy and use, Delinea continues to expand our PAM offerings including Privileged Behavior Analytics, Privilege Manager, and our latest addition--Delinea Platform.
To help you in your evaluation of PIM and PAM vendors, you can read the full report by downloading a complimentary copy here.