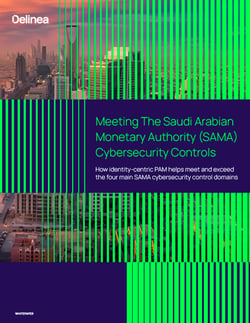 Free Whitepaper
Meeting The Saudi Arabian Monetary Authority (SAMA) Cybersecurity Controls
With cybersecurity attacks growing in sophistication and frequency, the world's financial services infrastructure must proactively defend itself to avoid monetary and trust losses in the event of a breach.
In Saudi Arabia, the Saudi Arabian Monetary Authority (SAMA) has issued a cybersecurity framework to support banks and other regulated entities to develop an appropriate cybersecurity governance structure and a robust infrastructure.
This guide helps you to meet regulatory recommendations with the use of modern PAM solutions to enable digital transformation with confidence.
You will learn about:
Cybersecurity leadership and governance
Cybersecurity risk management and compliance
Cybersecurity operations and technology
Third-party cybersecurity
Next steps to meeting compliance