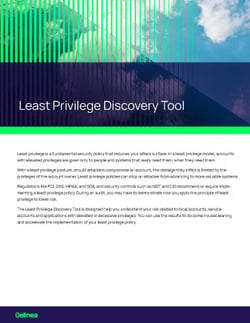 FREE TOOL
Least Privilege Discovery Tool
A simple first step to implementing your least privilege policy
See which IT systems and users have higher privileges than they need
Adhering to a least privilege policy is particularly important for remote workers connecting through diverse workstations. If users have local administrator rights and unintentionally download malicious software, they invite cyber criminals into your entire network.
A quick scan of your environment indicates which accounts may be overprivileged, and therefore vulnerable to insider threats and malware attacks.
Register to immediately download the Least Privilege Discovery tool
Install it on a Windows-networked computer, run your scan, and see your results right away.

Your information is completely private.

Delinea

has no access to your system credentials or report results.
By downloading this tool you agree to the End User License Agreement (EULA)
Your customized Least Privilege Discovery report will highlight three critical areas:
User workstations
Identify accounts with local administrative privileges to determine which should revert to standard accounts with limited system controls.

IT infrastructure and services
Find elevated privileges on IT resources, as well as services accounts and credentials that are improperly shared or past their expiration date.

Operating systems and applications
Inventory applications on your network and see which are flagged as malicious or insecure.