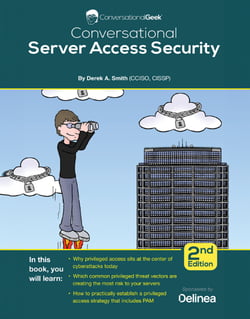 CONVERSATIONAL GEEK


Server Access Security
Privileged Access Management for Server Security
Your servers sit at the heart of your IT infrastructure and allow many users to access the same information or functionality. You use them to store sensitive business and customer data, host files and proprietary applications, and run mission-critical programs like email systems.
This introductory guide to server access security will show you how to make sure people only have access to server resources they need and when they need them by taking a Zero Trust approach that complies with the Principle of Least Privilege.
Why is server security so critical?
Due to the sensitive information servers contain, they are frequently targeted by cybercriminals looking to exploit any weaknesses in your server security for their financial gain.
Cyber criminals target servers to gain access to critical data like your financials, intellectual property, and more—opening the door to system-wide data loss, ransomware, and worse. You must protect your servers to prevent the loss of time, money, user productivity, and your organization's reputation.
How to protect your servers from cyberattack
If you've got standing privileges that give people full, anytime access to your servers, you're putting your organization at risk by missing some key cybersecurity best practices.
Modern server access security consolidates controls for Windows, Unix, and Linux servers residing both on-premise and in the cloud. By layering access security controls directly on your servers, you can ensure that anyone with a privileged credential has the required permissions at each access point.
Learn how you can implement server access security to:
Discover and remove standing privileges that give people full, anytime access to servers

Confirm identities and permissions at every access control point

Make sure only approved users can access or make changes to resources on each server

Provide users just-enough, just-in-time access and only elevate access when needed

Log and record behavior at the server level