ThycoticCentrify's Grace Ries Honored on the 2021 CRN® Rising Female Stars List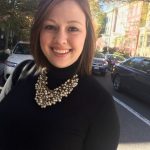 Santa Clara, Calif. and Washington, DC — July 12, 2021 — ThycoticCentrify, a leading provider of cloud identity security solutions formed by the merger of Privileged Access Management (PAM) leaders Thycotic and Centrify, is pleased to announce today that CRN®, a brand of The Channel Company, has named Grace Ries, Regional Channel Account Manager, to its 2021 list of Rising Female Stars. This list honors up-and-coming, talented women in the IT channel whose contributions are shaping the future of the IT channel through their leadership, tireless dedication, and innovative ideas.
Selected by the CRN editorial team, the 2nd annual Rising Female Stars list is made up of exceptional channel leadership candidates. Honorees are selected for their unique experience, expertise, impact on their partners, and dedication to the IT channel. These women are playing key roles in helping their organizations maintain and grow their channel partner programs across a multitude of disciplines, including marketing, program management, and partner engagement.
Grace Ries joined Thycotic in 2018, managing and growing major accounts within Thycotic's partner network in Canada. Under her leadership, channel revenue in the region has more than doubled. She has worked closely with partners to develop solutions addressing new remote work needs and is currently leading projects to advance DevOps Security and ransomware prevention for critical systems. She is passionate about sharing her knowledge on access management, enabling partners, and promoting diversity in the field.
"CRN's 2021 Rising Female Stars list recognizes professionals displaying an unwavering commitment toward channel growth and excellence. These future leaders are driving tomorrow's innovations for today's organizations," said Blaine Raddon, CEO of The Channel Company. "On behalf of The Channel Company, we congratulate all the honorees. What these women are accomplishing today will define the IT channel for many years to come."
"Grace's successful rise within the ranks of the channel community is a testament to her determination, achievements, and drive to be a channel dynamo," comments Bob Gagnon, Vice President of Channel Sales of ThycoticCentrify. "Her aptitude in product knowledge combined with a thorough understanding of the buyer's journey has been a windfall for partners seeking her enablement advice, leadership, and guidance."
The 2021 list of Rising Female Stars is featured online at www.CRN.com/risingstars. For more information about ThycoticCentrify's partner program, visit https://thycotic.com/partners/.
About ThycoticCentrify
ThycoticCentrify is a leading cloud identity security vendor, enabling digital transformation at scale. ThycoticCentrify's industry-leading Privileged Access Management (PAM) solutions reduce risk, complexity, and cost while securing organizations' data, devices, and code across cloud, on-premises, and hybrid environments. ThycoticCentrify is trusted by over 14,000 leading organizations around the globe including over half of the Fortune 100, and its customers include the world's largest financial institutions, intelligence agencies, and critical infrastructure companies.
About The Channel Company
The Channel Company enables breakthrough IT channel performance with our dominant media, engaging events, expert consulting and education, and innovative marketing services and platforms. As the channel catalyst, we connect and empower technology suppliers, solution providers, and end users. Backed by more than 30 years of unequaled channel experience, we draw from our deep knowledge to envision innovative new solutions for ever-evolving challenges in the technology marketplace. www.thechannelcompany.com
Follow The Channel Company: Twitter, LinkedIn, and Facebook.
© 2021 The Channel Company, LLC, Thycotic Software, LLC and Centrify Corporation 2021. ®Centrify and ®Thycotic are registered trademarks of Centrify Corporation and Thycotic Software, LLC respectively. CRN is a registered trademark of The Channel Company, LLC. All rights reserved.