What is service account lifecycle management?
Service account lifecycle management is the provisioning, governance, and decommissioning of an organization's service accounts. Securing and governing these machine identities, aka non-human privileged accounts, is critical in reducing your attack surface.
Why do service accounts need to be managed?
Service accounts exist in every organization, from tiny startups to massive multinationals. Failure to manage them leads to significant risk. IT teams need service account management to control service accounts, which will help mitigate the risk of breaches, service interruptions, and human error.
Organizations are especially vulnerable if they use Active Directory and their service accounts are mismanaged or not managed at all, or if they have grown to a level where accounts can no longer be managed manually.
Almost all large organizations suffer from excessive service account sprawl, perpetuating the unmanaged, uncontrolled expansion of their privileged account attack surface. It is common that service accounts are provisioned manually, have weak passwords that are never changed, and misconfigured with interactive logon enabled.
What are the challenges of managing service accounts?
Manually handling the lifecycle of a service account, especially in larger organizations, is cumbersome and increases risk.
Service accounts need proper tooling for standardized provisioning, tracking, auditing, and maintenance, from the point they're created to the point they're no longer needed. Without the right tooling, managing service account governance lacks oversight and accountability.
Business-critical operations and systems are dependent on the continued functioning of service accounts. If a service account can't connect, a service can't run, which puts your business at risk. For that reason, updating credentials for service accounts without understanding dependencies can cause disruptions.
Because many IT teams don't have the historical knowledge of service account dependencies, they avoid updating credentials or rotating passwords, which makes them easier for cyber criminals to crack and exploit.
Many organizations have developed poor practices that put service accounts at risk, including:
never changing service account passwords
overprivileged service accounts
using the same account for multiple services, violating the Principle of Least Privilege
hardcoding passwords or storing them in clear text
sharing an account between services and people
using the same password for multiple service accounts
What kind of solution solves the challenges of managing service accounts?
Some organizations have built custom solutions in an attempt to address these challenges; however, these DIY solutions siphon development time away from other priorities and are costly and time-consuming to maintain and update.
To effectively manage service accounts, you need an automated solution that streamlines the entire account lifecycle, from provisioning to deprovisioning.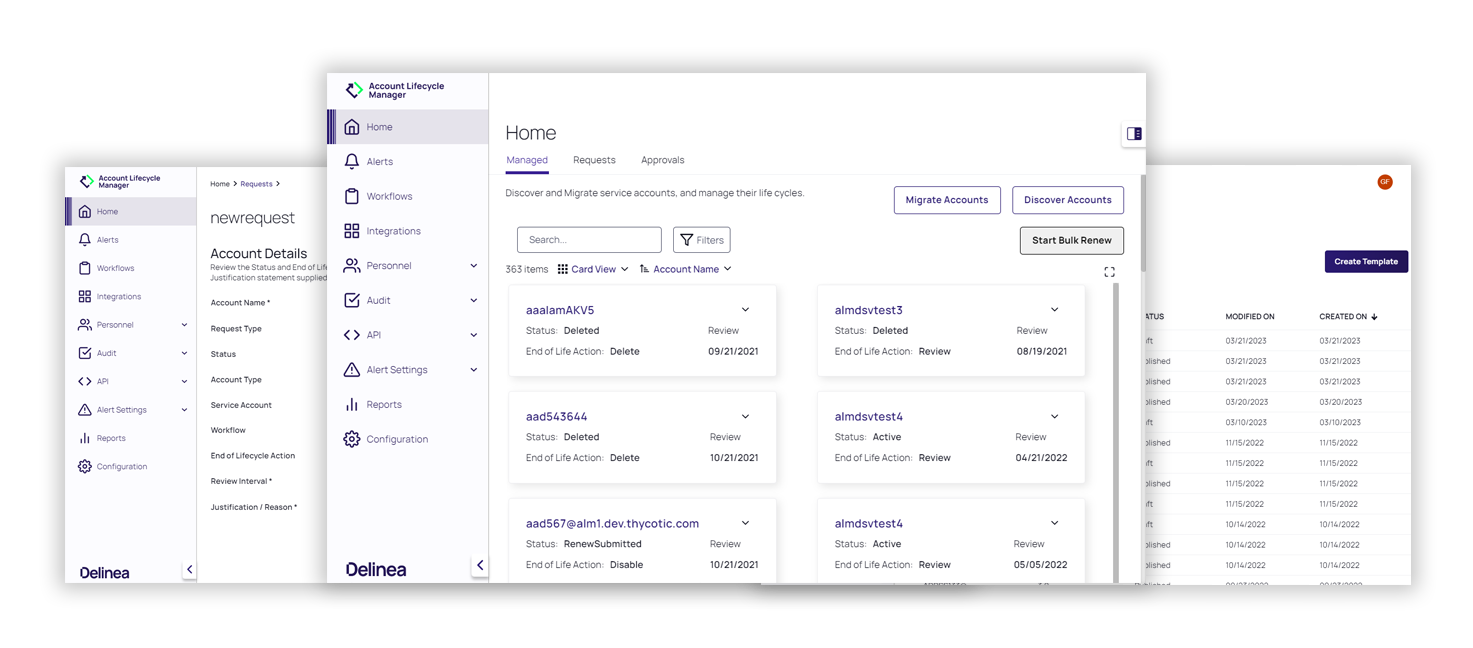 Above:Delinea Account Lifecycle Manager's UI for managing service accounts
A top-tier service account management solution allows you to control privileged service account sprawl efficiently and securely, reducing your organization's attack surface. It also helps manage identities, privileges, access, trust, and credentials. Additionally, it provides monitoring and tracking capabilities to prevent unauthorized usage and safely decommission service accounts.
What are the benefits of using Account Lifecycle Manager?
Now, organizations can exercise privileged access governance with control over service accounts from provisioning through decommissioning. Account Lifecycle Manager empowers you to manage and control service accounts with workflows, automated provisioning, governance, compliance, and decommissioning capabilities. Account requests follow approval workflows tailored to your organization.
Administrators can define workflow(s) for the provisioning process by setting required approvals for each type of account request. Role-based permissions within Account Lifecycle Manager govern user access, setup, and the request workflow, providing thorough privileged access governance capabilities.
How does Delinea's Account Lifecycle Manager solve the problems caused by improperly managed service?
Delinea's Account Lifecycle Manager (ALM) automates the full lifecycle of service accounts and streamlines the provisioning, governance, and decommissioning of service accounts. Account requests follow approval workflows tailored to your organization. Now IT and security teams can control service accounts and mitigate the risk of breaches, service interruptions, and human error.
Secure and govern non-human privileged accounts through an easy-to-use, vault-agnostic platform.
End service account sprawl and shrink your attack surface
Decommission service accounts without causing service disruptions Tracking accounts owned by departing employees to ensure they are no longer accessedLeverage workflow templates to provide specific users with specific sets of abilities and remove unnecessary options from the requestor.
Customize your email alerts to select which people get what information, ensuring your users receive reports relevant to their role.

Account Lifecycle Manager
Eliminate risky service account sprawl with
end-to-end access governance.