COO Q&A with Delinea's Josh DeLong: how delivering a great customer and employee experience is like a mission to Mars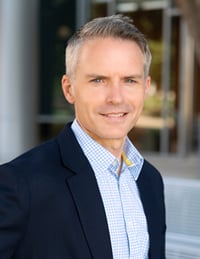 As part of our interview series with Delinea's leaders, we talked with Chief Operations Officer and Chief of Staff Josh DeLong for a behind-the-scenes look at Delinea's operational strategies and company culture. Josh shares his perspective on the COO role and its importance for improving cross-functional collaboration and customer experience.
What's the most important part of your role as COO?
My role is all about two things: operations and the customer. It reflects our belief that an exceptional customer experience should be at the core of everything we do, including building internal business processes and systems for scale.
Day-to-day, I lead systems and process improvement efforts that involve lots of different teams and stakeholders. When teams come together to solve an issue, it's helpful to have an operational center of gravity to align on a vision, define leading and lagging indicators, and drive timelines and milestones. Our systems must be efficient, scalable, and, most importantly, designed towards delivering an exceptional customer experience.
Tell us a little about your journey to Delinea. Why do you do what you do?
My career has been pretty diverse. I've been in consulting. I've been in start-up technology environments. I had a rewarding stint in public service at the U.S. Department of Homeland Security. The thread throughout my career is a passion for tackling hard problems and doing it with lots of different inputs and stakeholders. I like to bring teams and ideas together and synthesize that into a path forward that accomplishes something meaningful and measurable. When silos break down and people are communicating, teams start self-optimizing, which is really cool to see.
Why is that so important, particularly for a post-merger Delinea?
When you're adding more than a thousand new customers every year, as we did in 2022, it's vital that we remove manual steps and optimize processes to meet the demands of scale. We do that relentlessly. Instead of pushing problems downstream, we're automating everything we can.
For our customers managing privileged access in hybrid environments, the stakes are very high. They have an incredible amount of tooling and they're dealing with a lot of complexity. There are too many things demanding their attention. So even something as simple as quoting and presenting commercial terms has to be done in a way that is super efficient and responsive to customers.
What makes working at Delinea special?
My colleagues will roll their eyes at my affinity for NASA references, but there's something about the audacity and complexity of space missions that I find deeply inspiring and relevant. Here are groups of ordinary people coming together (often in the thousands) to achieve something remarkable, like figuring out a way to safely land rovers on Mars by bouncing them on the surface in self-inflating balloons. From 140 million miles away, with finite time and resources!
It's valuable to put our own operational priorities in the context of stunning achievements like that. But even more important, at Delinea we're at the heart of a really important problem. Many tech companies are trying to figure out if they're even making something people will pay for.
We deliver what we know the market needs, to mitigate and control a set of very real risks
We're in the unique position of delivering what we know the market needs, to mitigate and control a set of very real risks. Isn't that why we get up in the morning? To solve really hard problems that make a difference?
One of our corporate values is Spirited and it's all about cultivating joy in the way we work. If you've ever seen those videos of the NASA mission control room when they finally receive the signal that the rovers are safe and sending images back to Earth, that's pure joy. It's that sense of achieving something difficult that I've tried to prioritize in my career, and it's absolutely reflected in Delinea's culture.
How is the Delinea Platform redefining the customer experience?
The Delinea Platform is putting critical Privileged Access Management (PAM) tooling all in one place with less complexity, reducing the challenge that CISOs and their teams face. And as we make it easier for customers to manage privileges and permissions across an expanding attack surface, we're bringing that same level of clarity and simplicity to every interaction with Delinea as a company.
We're curating the customers' first 30 days down to a very minute level of detail, so they get going fast and realize value right away. We're taking time with our customers to find and eliminate any points of friction. And we're engineering a customer journey that seamlessly allows them to increase the maturity of their program in line with their specific PAM priorities, while knowing exactly where they stand at any moment in time.
What career advice can you share with those who aspire to be COO?
Embrace opportunities to engage in different problems with different teams. Diversity of experience is not a detractor, it's a positive. Putting yourself in an uncomfortable position that will lead to learning is easy to say but sometimes harder to do. The value is in starting to recognize patterns in problems, even if you haven't seen that exact situation before.
Because the COO role is so inherently cross-functional, it's really important to treat the people you work with like you treat anyone in your personal life. It's all about trust and credibility. Teams need to know you as COO are there to solve a problem first and foremost, and that you genuinely value and enjoy the exchange of ideas that drives innovation. That's been important for my career and it's a part of the Delinea culture I really value.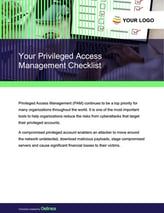 FREE CHECKLIST


Need a step-by-step guide for planning your strategic journey to privileged access security?
Start with our free, customizable PAM Checklist.